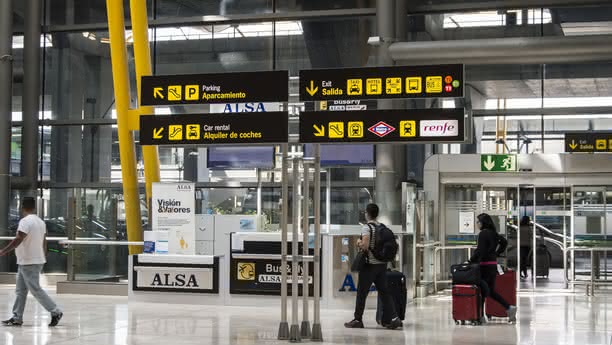 Spain's Barajas Airport Receives 16 Colombian Flights WITHOUT Health Checks Despite Dangerous Covid Strain.
The Spanish Government has allowed 16 flights from Colombia in the last week to land at Barajas Airport (Madrid) with passengers passing through arrivals without any checks or covid tests, causing outrage in Madrid's community.
The Community of Madrid has warned that an increase in imported cases of the so-called Colombian strain has already been detected- the worries are that the new strains may reduce the efficacy of the vaccine, according to a report from Okdiario.
According to official data provided by the Spanish Airports and Air Navigation (Aena), a total of 16 commercial flights from Colombia arrived at the Adolfo Suárez Madrid-Barajas airport in the week of May 29 to June 4- the Balearic Islands has already registered two cases of the Colombian strain discovered in mid-May.
Deputy Minister of Public Health and Covid-19 Plan of the Community of Madrid, Antonio Zapatero, said on Friday that an increase in the presence of the Colombian variant of Covid-19 has already been detected and warned that a 'constant drip' of cases continue to enter through the airport.
Columbia battles the spread of the virus
Colombian cities with an ICU occupancy above 85 percent recently had a curfew imposed from 6pm through 5am local time, while those at between 80-85 percent capacity had curfews forced beginning at 8pm.
Curfews started at 10pm in cities with 70-79 percent occupancy, while those between 50-69 percent were restricted from midnight until 5am.
Bogota, the country's capital, reports ICU occupancy rates of 65.5 percent, while coastal cities including Barranquilla were at about 90 percent. Duque also said Bogota and several other Colombian cities were under observation due to rising infections and deaths.
Several countries across Latin America have seen a rise in COVID-19 infections, deaths and hospitalisations in recent weeks, while many also are struggling to secure vaccines to inoculate their populations.
---
The Euro Weekly News is running a campaign to help reunite Brits in Spain with their family and friends by capping the costs of PCR tests for travel. Please help us urge the government to cap costs at http://www.euroweeklynews.com/2021/04/16/ewn-champions-the-rights-of-brits-in-spain-to-see-loved-ones-again/
Thank you for reading, and don't forget to check The Euro Weekly News for all your up-to-date local and international news stories.