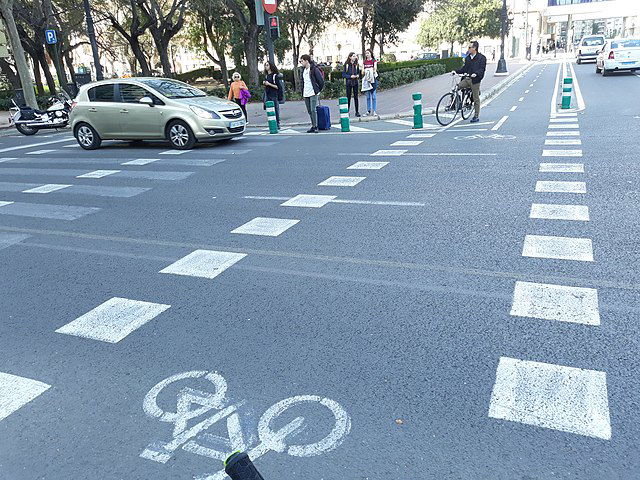 A YOUNG man is looking for the driver who hit him at a pedestrian crossing in Malaga leaving him badly injured. As reported by Malaga Hoy, José María Parra was jogging when he was run over. The fracture he suffered in the ulna, the forearm bone, forced him to undergo surgery and he is still recovering. Now he is looking for the driver of the vehicle who, according to his testimony, fled the place, leaving him badly injured.
The accident occurred last Friday, May 28, at around 7 in the evening at the Coín motorway. "I was running and when I was crossing the footpath, I felt the impact of a car. I was about to fall on top of three girls who were about 14 years old and were also passing by", recalls the victim, who assures that the vehicle did not stop after hitting him. Stunned by the blow, which prevented him from moving his left hand and also caused several bruises and bruises on his chest and back, José María managed to see a tourist that was about 70 meters away from the area of ​​the accident.
At that moment, another driver who had realized that he was injured stopped and offered to take the young man on board to assist him and try to locate the person responsible for the accident. "He told me:' Get in and see if we can catch him, 'but we no longer saw him," explains José María. He was immediately transferred to the Clinical Hospital, where he was admitted. On Monday, May 31, he underwent surgery for an open fracture of the ulna and was discharged the next day.
The young man, who is 26 years old, has spread his story through social networks and has also made it known to the Local Police so that a witness can provide him with a clue to reach who ran him over. He is aware of the difficulty involved since he could not note the license plate and the only information he has is that the car was light blue.
José María states that he plans to use a lawyer. In addition to the "intense pain" he suffers, he fears that the recovery of his arm, which he is now wearing in a sling, could lead him to lose the job he had gotten this summer in a beach bar on the Costa del Sol. He believes that the driver "was confused ", but complains that he did not stop after the hit.