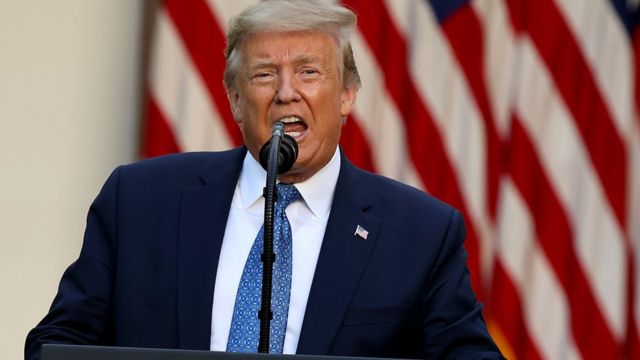 Donald Trump demands China 'pay $10 trillion' for its handling of Covid.
FORMER President Donald Trump is making it clear he would be prepared to go much further if he was in charge after Joe Biden announced yesterday, June 3, a series of sanctions on China.
US President Joe Biden signed an executive order on Thursday expanding a Trump-era list of Chinese companies blacklisted for their alleged ties to the country's military. The executive order listed 59 companies sanctioned for their links to Beijing's 'military-industrial complex.'
Former President Donald Trump's list from November 2020 targeted 31 Chinese companies in the telecom, construction, and technology industries.
In a statement issued overnight, Mr Trump said he is demanding that China pays $10 trillion, just over €8 million, for its role in the coronavirus pandemic. Former United States President Donald Trump made a statement on Thursday saying that his predecessor Barack Obama's administration "foolishly" provided funding under grant programmes to the Wuhan Institute of Virology.
He also claimed he saved hundreds of thousands of lives by resisting Anthony Fauci's guidance on everything from closing borders, developing vaccines and wearing masks.
The 74-year-old's statement came in reaction to Dr Fauci's leaked emails being published, which showed the then head of his coronavirus Task Force was told the virus may have been engineered at the start of the pandemic, but publicly downplayed it.
Dr Fauci has since backtracked on his original claim. "The correspondence between Dr Fauci and China speaks too loudly for anyone to ignore," Mr Trump said in a statement.
---
The Euro Weekly News is running a campaign to help reunite Brits in Spain with their family and friends by capping the costs of PCR tests for travel. Please help us urge the government to cap costs at http://www.euroweeklynews.com/2021/04/16/ewn-champions-the-rights-of-brits-in-spain-to-see-loved-ones-again/
Thank you for reading, and don't forget to check The Euro Weekly News for all your up-to-date local and international news stories.