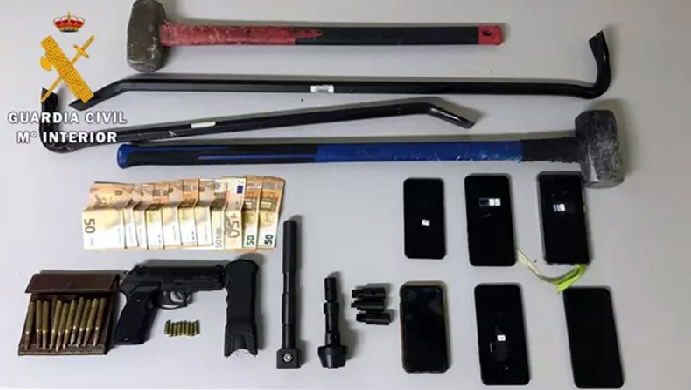 Criminal Network That Specialised In Robbing Tobacconists Is Broken Up By The Guardia Civil
The Guardia Civil has dismantled a group that specialised in robbing tobacconists, and who had been operating from Salamanca, Almería and Madrid, and to which at least seven robberies are attributed in the provinces of Salamanca, Zamora, and Cáceres.
According to Guardia Civil sources, 'Operation Armutanco' resulted in the arrest on Tuesday, June 1, of six people, which consisted of four men, and two women, plus the subsequent searches of five homes and an industrial warehouse located in the provinces of Salamanca, Madrid, Almería, and Badajoz, uncovered a hoard of stolen goods and 'tools of the trade'.
This operation was launched in December 2020, under the control of the Organic Unit of Judicial Police (UOPJ) of the Salamanca Command, after two robberies with force took place in commercial premises in Aldeaseca de la Armuña and Salamanca, along with the theft of a vehicle to carry out the first robbery, according to Europa Press.
During the investigation, the officers soon determined that the members of this criminal gang were of Romanian and Spanish origin, and were definitely based in the provinces of Salamanca, Madrid, and Almería, from where they were traveling "to any point of the national territory with the sole purpose of committing criminal actions, mainly in establishments dedicated to the sale of tobacco".
Simultaneously, on June 1, specialised units of the Guardia Civil carried out five house raids in the provinces of Salamanca, Madrid, Almería, and Badajoz, and one raid on an industrial warehouse, resulting in the arrests of the six members of the criminal network, aged 28, 19, 32, 36, 31, and 39, all charged as suspected of being involved in the seven robberies on tobacco stores in the provinces of Salamanca, Zamora, and Cáceres, and the detainees have been made available to the Court of Instruction No2 in Salamanca.
___________________________________________________________
The Euro Weekly News is running a campaign to help reunite Brits in Spain with their family and friends by capping the costs of PCR tests for travel. Please help us urge the government to cap costs at http://www.euroweeklynews.com/2021/04/16/ewn-champions-the-rights-of-brits-in-spain-to-see-loved-ones-again/
Thank you for reading, and don't forget to check The Euro Weekly News for all your up-to-date local and international news stories.