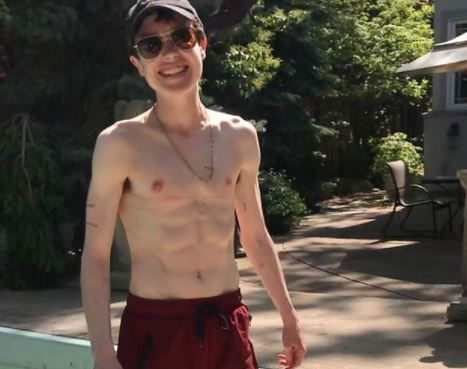 Elliot Page Grins As He Goes Shirtless In Swim Trunks.
Elliot Page has been seen grinning as he goes shirtless in swimming trunks for the first time since coming out.
Movie star Page looked stunning and extremely happy posing shirtless publicly after undergoing surgery. The star came out as transgender last year in December and Elliot took to Instagram to share the stunning photo.
In the photo the Oscar-nominated actor looked extremely happy and was soon complemented by many fans.
The Juno and X-Men star took to Instagram and posted that: "Trans bb's first swim trunks #transjoy#transisbeautiful."
Fans quickly responded including Miley Cyrus, who simply wrote: "Hot ❤️"
Another fan commented on the stunning abs shown in the photo and said: "Can I borrow some abs? Thanks!,"
The happiness shown in the photo was noted too, and one follower commented: "Man, you are beaming!! ❤️❤️❤️"
Others expressed how proud they were of Elliot.
The 34-year-old star opened up in an interview with Oprah on Apple TV+ last month. Elliot opened up about his transition and commented that: "Getting out of the shower and the towel's around your waist and you're looking at yourself in the mirror,"
"You're just like, 'there I am'. I'm not having the moment where I'm panicked, I'm not having all those little moments.
"It's being able to touch my chest and feel comfortable in my body probably for the first time. Tears of joy."
Elliot is eager to encourage others to be themselves and speaking about his journey said: "I was expressing this to people in my life much before posting that letter, and telling people for the first time and knowing I wanted a moment to become comfortable in myself and to be able to get to that point,"
"For me, in this time we're in right now, and especially with this horrible backlash we're seeing towards trans people, particularly trans youth, it really felt imperative to do so."
The star also told Oprah that: "I wanted to talk about it for a couple of reasons. I wanted to share with people just how much it has changed my life,"
"And I want people to know that not only has it been life-changing for me, I do believe it is life-saving and it's the case for so many people… and because there is such an attack on trans health care right now, when already there is such a lack of access or trans people who don't even want to go to the doctor."
---
The Euro Weekly News is running a campaign to help reunite Brits in Spain with their family and friends by capping the costs of PCR tests for travel. Please help us urge the government to cap costs at http://www.euroweeklynews.com/2021/04/16/ewn-champions-the-rights-of-brits-in-spain-to-see-loved-ones-again/