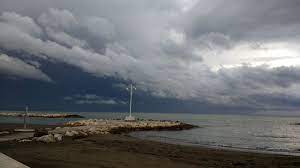 Rainfall leaves almost 30 litres in an hour in parts of the province of Malaga.
THE rain has returned to Malaga this Sunday and has done so with force in some parts of the province, where it has approached 30 litres per square metre fallen in one hour. According to data from the Junta de Andalucía's Hidrosur network, in the Santo Pitar area 27.1 litres were recorded in one hour, while the Benamargosa River gauge recorded 25.6 litres in one hour and in the Sierra de Mijas, 25.8 litres per square metre.
In the Paseo de la Farola in Malaga City 20.5 litres have been collected, while in La Viñuela it has been close to 20 litres in one hour, according to Hidrosur. In the rest of the province, for the moment, rainfall is much lower, although the Aemet is maintaining the yellow alert for the Costa del Sol and Guadalhorce until 10 o'clock tonight (May 23) for rainfall that may exceed 15 litres per square metre in one hour. In Torremolinos, for example, there has been occasional flooding of streets and the sewage system at times seemed to be overwhelmed.
In Axarquia the yellow warning for rain is also activated until 10 o'clock.
For Monday (May 24), the Aemet forecasts light cloudy skies in the province and minimum temperatures in the interior, with maximum temperatures of 28 degrees in Velez, 27 in the capital and 24 in Antequera, where the minimum will be nine degrees.
As reported by La Opinion De Malaga