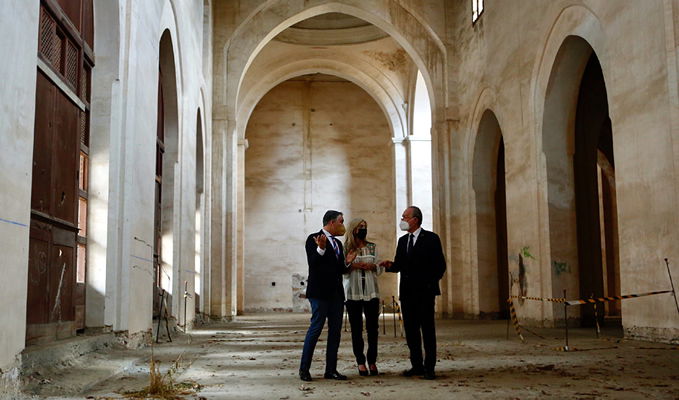 MÁLAGA'S Historic Convent De La Trinidad To Be Refurbished in an €18.4m project by the Junta de Andalucía

Elías Bendodo, the Junta de Andalucía's Minister of the Presidency, Public and Interior Administration, and Patricia del Pozo, the Minister of Culture and Historical Heritage, accompanied Málaga's mayor, Francisco de la Torre, to tour around the Convent of the Trinidad in Málaga, where an investment of €18.4m from the Feder Funds will be used to restore the building as a cultural and heritage centre.
This project will provide the 10,000m² monastery – built between the 15th and 16th centuries and declared an Asset of Cultural Interest – with patrimonial uses, to create the first Intermediate Provincial Archive in Andalucía, adjacent to the Provincial Historical Archive, to include facilities that can be used for cultural events as well as exhibition rooms.
Patricia del Pozo, said that the project, "finally presents, after many years and different projects, a serious and rigorous proposal for the Convent of the Trinidad that takes into account both the neighborhood demands and the actions of the Malaga Town Hall, because we want to join forces and optimize resources for the benefit of this heritage asset and the neighborhood where it is located".
The minister added that the Ministry of Culture and Historical Heritage has already prepared the functional program "and is currently working on the specifications for the tender for the project drafting contract, with the start of said project being planned during the month of May".
Mr Bendodo believes that "Malaga is in luck with this project", and that the Junta de Andalucía, "does its homework to revitalize this architectural jewel", pointing out that it is "a real project adapted to the needs of citizens, with which the Andalucían Government wants the residents to feel the future equipment as their own, as a backbone of this area of ​​Málaga".
Adding, "The Andalucían Government is working for the Malaga of the future, but without forgetting its history, with actions like this, the Málaga of the future shakes hands with historic Málaga", as reported by juntadeandalucia.es.
The Euro Weekly News is running a campaign to help reunite Brits in Spain with their family and friends by capping the costs of PCR tests for travel. Please help us urge the government to cap costs at http://www.euroweeklynews.com/2021/04/16/ewn-champions-the-rights-of-brits-in-spain-to-see-loved-ones-again/