EVER since the land border between Gibraltar and Spain reopened for vehicles in 1985, the Rock has been a magnet for visitors who want to take advantage of what were perceived as bargains.
With the outbreak of the pandemic and introduction of lockdown on both sides, only cross border workers were for some time allowed to enter and leave and until midnight on April 28, the Junta de Andalucia forbade the crossing from one Province to another.
Although proudly foreign as far as Spain is concerned, Gibraltar borders La Linea de la Concepcion which is part of Cadiz Province but now, those from Costa del Sol and Axarquia (where coach trips were regularly arranged) find themselves back within relatively easy distance to drive.
At the time of writing, Gibraltar considers itself almost completely Covid-19 free and masks are not required in public, except in shops and most offices and the majority of the adult resident population has been inoculated with the Pfizer vaccine.
Things have changed however following Brexit and although it is possible to cross the border showing a passport from a country other than Spain or with a Spanish resident's card, there are new EU rules in place concerning what can be exported and Gibraltar has imposed import duty on some goods being brought in.
It is estimated that up to 10,000 people live in Spain but work in Gibraltar so there are definitely rush hours which do mean you have to be patient in order to drive across the border at certain times of day.
Ideally enter from about 10am and leave either before 5pm or after 7pm and the only real problem of delay could be the fact the road across the runway is closed in order to allow aircraft to land and take off.
Don't be fooled if someone on the Spanish side approaches you saying that you need a visa to get in or they can offer free all-day parking once in Gibraltar – it's a scam and you can just ignore them as well as those carrying placards about how they are desperate for money as their house burnt down – they've been standing in that queue for years.
The currency is Gibraltar Pounds or Sterling although Euros are widely accepted and there is plenty to spend your money on but be careful as there are restrictions in place concerning the movement of alcohol and tobacco into Spain and if you have more than the allowed limits you could be stopped and possibly fined.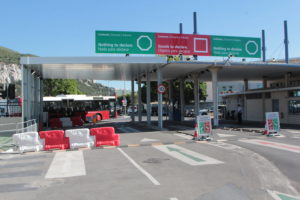 Cigarettes and spirits as well as fuel for your vehicle are cheaper than Spain (but not by as much as they used to be) and much cheaper than in the UK but you are only allowed to take 200 cigarettes per person across the border and one litre of spirits and in theory Spanish customs close at 9pm so even if you have the allowed amounts of cigarettes and spirits after that time, it could (although unlikely) be confiscated.
There are new restrictions on export of dairy products, some fish and meat, so click on this link to read information released by the Gibraltar Government in January.
Gibraltar is a small area with plenty of cars so parking can be a problem as you get near to the centre so many people park in the relatively cheap car park just on the La Linea side of the border and walk across, catching a bus or taxi into the city.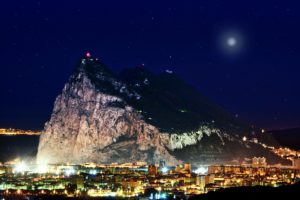 There are plenty of shops selling cigarettes, alcohol, perfume, jewellery and electronics (some of which are cheaper than Spain) and there are also two main supermarkets with easy parking, Eroski (who sell Waitrose products amongst others) and Morrisons who sell their own brands as well as many of the top British brands.
Again, be aware that because of Brexit, there are a number of products that you might have expected to see which are in short supply in the supermarkets or are no longer being imported.
Without a doubt, prices have gone up since the pandemic and Brexit and for some reason, various items are cheaper in Spain (for example toothpaste and dish washer tablets as well as Spanish wine) so if you have an idea of what you normally purchase you can double check.
There are plenty of bars and restaurants although they are generally pricier than in Spain although there is a range of pub grub as well as tapas and much more.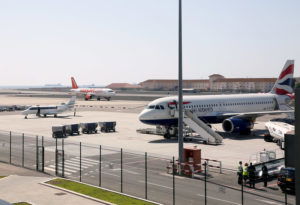 With more destinations in the UK opening up from Gibraltar, it may also be a better idea for many to fly from there rather than Malaga once international travel reopens properly.