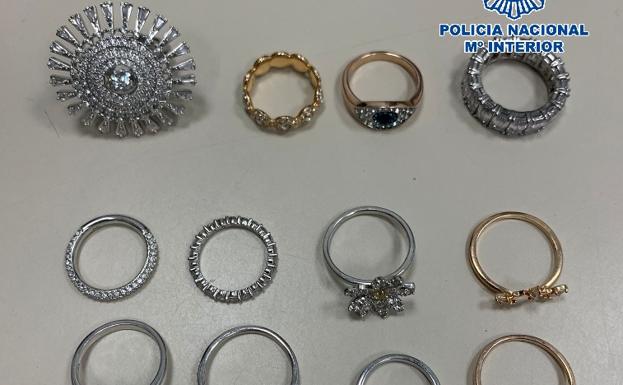 A ROBBERY from a car in Malaga has led to police solving a jewellery theft case.
The arrests made from the robbery from a car in Malaga have led police to solve a jewellery theft case.
According to Spanish newspaper Sur, the arrest of two men, aged 22 and 44, for the alleged robbery inside a car in the western part of the Malaga capital has solved another robbery committed in a jewellery store in the centre.
Last Friday, the 23rd, at around 1.15 am, plainclothes officers received a notice warning that two individuals had entered a vehicle by forcing door lock and had subsequently left the scene.
Police began a search and located two men who matched the description provided by Intelligent Command and Control Centre. Officers noticed that they were throwing an object at the bottom of a vehicle and were trying to force open the door.
After identifying them, police arrested both men before searching them and finding 12 rings from a well-known firm.
Looking on police databases, they found that the jewels matched those stolen in a robbery in a jewellery store in the centre of the Malaga capital two days earlier. Thanks to the recording images from the shop and the similarity of the clothing they wore in both robberies, police were able to identify the investigators as the alleged perpetrators of this robbery as well.
The theft at the jewellery store reportedly occurred in the early hours of Wednesday, April 21, after thieves broke down the main access door. A total of 33 rings were taken, valued at €3,357 that the men allegedly tried to sell in a store before failing because they could not prove the legal origin of the jewellery.
The detainees were charged as alleged perpetrators of two robberies and were place at the disposal of the Judicial Authority in Malaga.