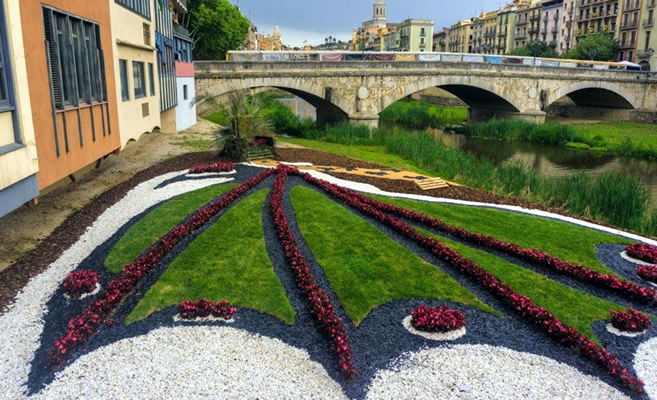 GIRONA'S Temps De Flors Flower Festival Will Go Ahead This Year after being cancelled in 2020

Marta Madrenas, the mayor of Girona in Catalonia has announced that this year's famous annual flower festival, the 'Temps de Flor' (Flower Time) will go ahead as planned, between May 8 and 16, after having to cancel it in 2020, due to the pandemic.
This will be 65th festival, but for the first time in its history the event will be held totally outdoors, but will only feature 50 per cent as many installations as normal, with 90 floral installations in 83 locations, and colourful flower petals once again carpeting the streets of the Barri Vell old quarter of Girona.
Girona's springtime festival is a very popular event in Catalonia's cultural calendar, and this year strict coronavirus rules, and health and safety measures will be in force, with access controls and capacity limited to 10,000 persons.
Glòria Plana, a spokeswoman for Girona city council said, "We will propose open-air itineraries throughout the city, which include emblematic Barri Vell sites, squares and gardens in different neighborhoods as well as green and peri-urban areas", with the mayor adding, "this year will be different, but not any less exciting. We will have spectacular floral installations", as reported by catalannews.com.
The Euro Weekly News is running a campaign to help reunite Brits in Spain with their family and friends by capping the costs of PCR tests for travel. Please help us urge the government to cap costs at http://www.euroweeklynews.com/2021/04/16/ewn-champions-the-rights-of-brits-in-spain-to-see-loved-ones-again/