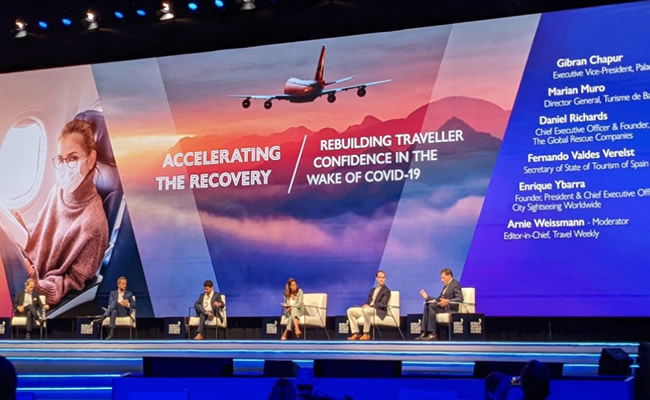 SPANISH Tourism Minister Says Spain Will Have The Digital Vaccine Certificate In Place And Be Ready To Welcome Brits In June

Fernando Valdes Verelst, the Spanish tourism minister, speaking at the World Travel and Tourism Council's summit in Mexico, said, "June will be the start of the recovery of tourism in Spain. By then, we will have a digital vaccination certificate in place and we will be able to reopen our borders".
Those were the words of a man who is at the centre of all the travel negotiations going on between Spain and Britain regarding holidays and travel to Spain this Summer, and you can hear him talk about it in the video below.
While we should not count our chickens too soon, that really does cast some light at the end of the tunnel for all those who are hoping to get away to Spain and its islands this Summer, and for all the business owners in Spain who have been patiently waiting to welcome tourists back into their establishments again, a country where an estimated 17.4million tourists have flocked flock to annually before the pandemic wiped travel out.
As the minister said, Spain will first trial the digital passes for its own nationals at Spanish airports next month, to test how it works and iron out any possible glitches, in preparation for the Summer season that he hopes will start in June.
Mr Verelst also predicted that Spain will be on Boris Johnson's 'green list' when it is announced on May 19, explaining, "Because of the progress in our vaccine rollout with 22 per cent of our population having had their first dose already, we expect by June to be at the green light".
He added, "We are having close conversations with UK authorities and we are exchanging information on Spain's digital system and the trial happening at our airports in May".
The minister also spoke of his delight that Boris had spoken of the possibility of opening up travel to the Spanish islands even sooner, saying, "It is great news the UK government has said it will take into consideration the situation on individual islands. We do not want a situation like last year where it was stop-start in terms of travel being allowed", as reported by thesun.co.uk.
The Euro Weekly News is running a campaign to help reunite Brits in Spain with their family and friends by capping the costs of PCR tests for travel. Please help us urge the government to cap costs at http://www.euroweeklynews.com/2021/04/16/ewn-champions-the-rights-of-brits-in-spain-to-see-loved-ones-again/