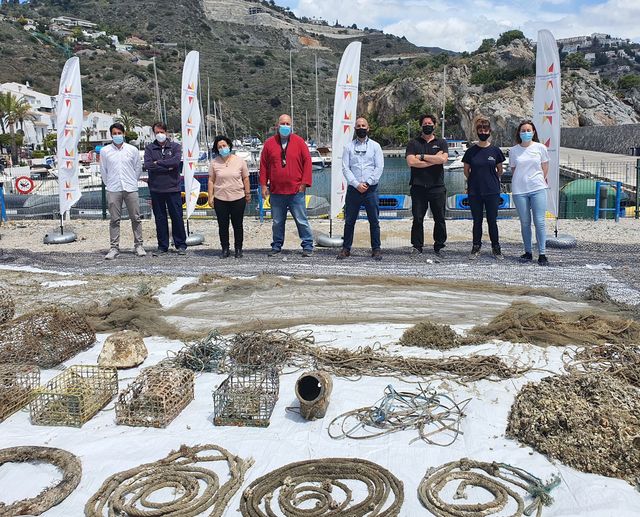 More than 250 kilos of harmful waste cleared from Almuñecar seabed.
HUNDREDS of kilos of seabed waste has been collected at the Punta de la Mona, mostly abandoned fishing gear and plastic which has "severely damaged coral in the area", according to one of the leaders of SOS Coral project, Fernando Alarcón.
The Marine Balance Platform – "lovers of the sea" – has teamed up with Almuñecar Council to promote marine conservation in areas protected due to the wealth of their species, thereby preserving the marine ecosystems.
′′We are very aware of this situation here at the Town Hall along with our cleaning company FCC, and our aim is to conserve our seabed – one of the great natural values of our coastal strip," stressed tourism and beaches councillor, Daniel Barbero.
"Conservation, education and environmental awareness is our goal, as well as the implementation and promotion of projects that serve to save that special wildlife and our natural heritage," added Barbero.
At the centre of the SOS Coral project is saving the single population of corals in the Mediterranean, which is located in the Special Conservation Zone (ZEC) of Punta de la Mona, which has a population of "priceless value", explained Alarcón.
"But unfortunately, (during conservation work) in addition to such a special marine wealth, we also found a large buildup of waste, 98 per cent from fishing gear that damages an incredible coral garden we are trying to protect," he added.
The initiative collaborates with sea lovers, divers, fishermen, researchers, nautic experts, athletes, municipalities and businesses.
"We must work together to conserve our seas and oceans with criteria of economic, social and environmental sustainability, benefitting from joining forces for Marine Balance recovery."
SOS Coral leader explained that the participatory project boasts a team consisting of scientists, divers, naturalists and other experts who "come together to do very complex work, as corals are very delicate".
The team carries out underwater cleaning, detangling of nets that requires a "very purified technique" and the creation of a coral nursery with the long-term goal of banning fishing and other harmful activities.