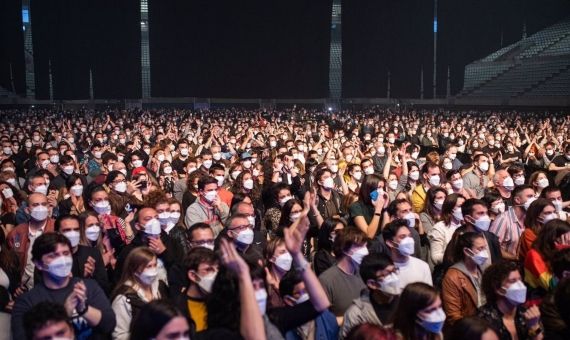 Live Music Concert In Barcelona Spain Proves A Covid Success.
Scientists who ran a pilot test at a Love of Lesbian concert in Barcelona, that was attended by a live audience of 5,000 spectators, have established that these events are not covid super-spreaders as first thought. The concert took place at the Palau Sant Jordi in Barcelona on March 27. All the spectators wore masks but did not observe any physical distance and were packed together as is normal in these types of musical events.
The data produced by Dr. Josep Maria Llibre, member of Fundació Lluita contra la Sida i les Malalties Infectious i l'Hospital Universitari Germans Trias i Pujol, indicated that after the concert only six infections were detected, of which, through a subsequent follow-up, it was determined that four were not due to attending the event.
Without being able to establish that the other two people had contracted the covid in the concert, Dr. Llibre suggested that after "analyzing the available data, the chances that the people were infected on the spot are minimal."
The study indicated that the number of cases detected in the test would represent a cumulative incidence over 14 days of 130.7 per 100,000 inhabitants when used as a comparison.
Doubts still exist however about whether vaccinated people should be tested, given that as Dr. Clotet indicated, "a vaccinated person, even with a low viral load, can still infect."
But there are also logistical problems to consider, such as who has to do the tests. Small and medium concert halls do not have the resources to pay for them. As pointed out by Carmena Zapata, head of ASSAC, the association of concert halls of Catalonia, and Alberto Guijarro, head of the Apolo room.
Jordi Herreruela, director of the Cruïlla festival – who has already scheduled an event for this summer, hoping to bring together 25,000 people a day – meant that "the most complicated thing is that the tests are correctly verified and a valid result can be attributed to each person analyzed."
Related:
Spanish DJ's are demanding "clear" and concise instructions on how to resume activity after being idle for 13 months. " Let them tell us how and we will do it as they tell us," said the DJ and vice president of the Spanish Association of Disc-jockeys and Producers (AEDYP), Albert Neve, in statements to the ACN.
Neve said about his members: "They have not been allowed to work" and, along the same lines insisted that the group has been discriminated against "without reason or justification." "The theaters, despite having 50% capacity, have all the actors on stage doing the work," said disc jockey Jordi Carreras. "We work with music, which is culture, and they don't treat us as such," Carreras insisted.
Source: El Pais