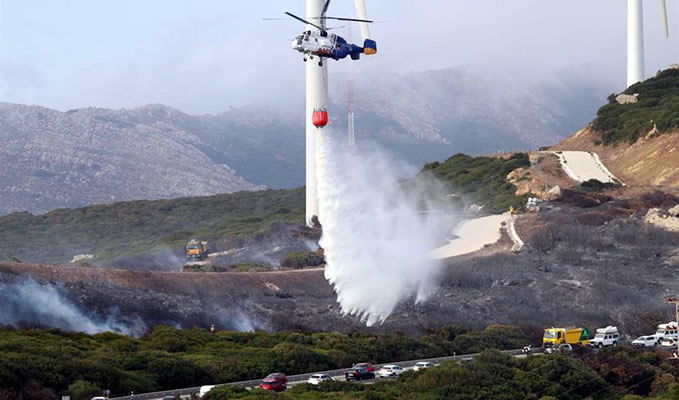 ANDALUCÍA And Portugal Collaborate In €5.6m Project To Fight Forest Fires on both sides of the border

The Governing Council has been informed that the Firepoctep project, led by the Ministry of Agriculture, Livestock, Fisheries, and Sustainable Development, has been approved by the Interreg VA Spain-Portugal Management Committee.
With a budget of €5.6m (£4.8m), the project which will run through 2021 and 2022 will be financed 75 per cent by Feder funds, along with another 20 partners from both countries, and is designed to strengthen the prevention and extinction systems used to fight forest fires in Spain and Portugal.
Firepoctep's objective is to combine the knowledge and resources of fire fighting forces on each side of the border, both of which are prone to forest fires, being heavily wooded areas, and as fires know no borders, many times they have burned across the territories of the Spanish-Portuguese border
Similar schemes, which Firepoctep intends to take advantage of by gaining information from, are already in place with the Iberian Center for Research and Fight Against Forest Fires (Cilifo), who have experience in fighting fires in the Alentejo-Algarve-Andalucía Euroregion, as well as regional agreements signed by authorities in Extremadura and Alentejo, Castilla y León-Centro de Portugal or Galicia and the North of Portugal.
Such a project with combined resources is of benefit to the forestry sector and helps comply with objectives laid down by the European Union to help support rural development and promote the provision of goods and services in a manner consistent with key environmental policies, environment, and climate.
It also helps to improve the European Union Civil Protection Mechanism aimed at providing adequate prevention and preparation actions, ensuring that there are sufficient capacities to face possible catastrophes, as reported by juntadeandalucia.es.
The Euro Weekly News is running a campaign to help reunite Brits in Spain with their family and friends by capping the costs of PCR tests for travel. Please help us urge the government to cap costs at http://www.euroweeklynews.com/2021/04/16/ewn-champions-the-rights-of-brits-in-spain-to-see-loved-ones-again/