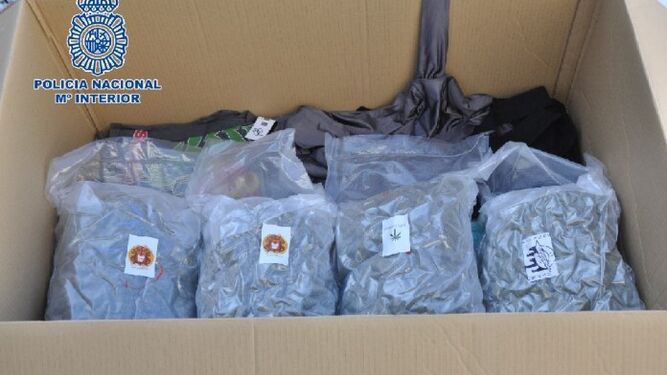 24 KILOS of marijuana has been found in a moving van in Vélez-Málaga by the National Police.
Officers of the National Police have found 24 kilos of marijuana in a moving van in Vélez-Málaga. The marijuana buds were vacuum-packed by the employee of a transport company and were packed in boxes along with furniture and other belongings. According to investigations, the person transporting the drugs was not in on the plot.
A woman of Columbian origin who had access to a storage room in Marbella, from where the marijuana would have been loaded, has been detained by investigators.
The operation was carried out by officers attached to the Udyco in Vélez-Málaga and was dubbed the "Leopardo Operation." Investigations began when plainclothes officers stopped the driver of a moving van on the A-7206, joining the highway A-7, as it passes through the town of Axarquia.
When speaking to the driver, he said he worked for a removal company located in Seville and had just picked up some packages from a storage room in Marbella. The contents of the van were due to be delivered to Rome, Italy. However, when the driver opened the cargo during the police checks the officers detected a smell of marijuana Sativa. Officers then discovered numerous vacuum-packed marijuana packages under suspiciously packed duvets.
The van was taken to the police station for a more thorough inspection and it was concluded that the vehicle was loaded with six cardboard boxes and contained 24 kilos of marijuana packed in plastic bags with various logos.
The National Police have reported that in one of the packages a technical geolocation device was discovered, which would have been controlling the shipment of the drugs.
Investigators ruled out that the employee of the removals company had any responsibility in the plot and focused their investigations on the storage rooms in Marbella from which the van was loaded.
Investigations finally led officers to the identification of the person who had access to the storage rooms, a 30-year-old woman of Columbian origin, for her alleged involvement in a crime against public health.
Source: Malaga Hoy