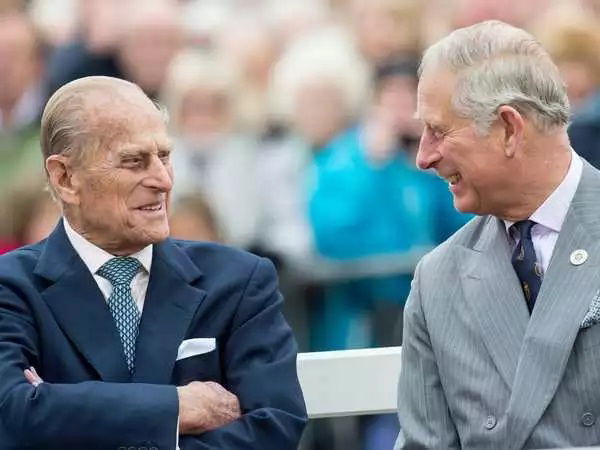 Prince Charles to take on Prince Philip's Duke of Edinburgh title.
The Prince of Wales is poised to be confirmed as the Queen's chief supporter and patriarch of the royal family by becoming the next Duke of Edinburgh.
It is understood that he will pay his father the ultimate compliment by adopting his title — bestowed on Philip by George VI when he married — securing himself as Her Majesty's "liege man" with the passing of her beloved husband.
Royal biographer Robert Lacey delved into the topic on Friday's "Good Morning Britain," Daily Mail reports. Lacey said that, as the longest-serving heir-apparent to the British throne, Charles will be the oldest-ever King when he is crowned. Still, the Prince of Wales has no intention of stepping aside for his 38-year-old firstborn, Lacey believes.
"There is such loyalty and respect for the Queen [that] when we look to the future and say, 'Who could duplicate that in the future,' could it be King Charles and Queen Camilla?" Lacey posed. "Or would it much better be William and Kate, who are already the focus of enormous popularity and are clearly stepping into the role of the future sovereign?
Senior courtiers are expected to confirm the move on this coming Monday, April 19, and it will be announced by the palace. It means the heir to the throne will become the Duke of Cornwall and Edinburgh while retaining his lead title, the Prince of Wales.
It was hoped the family reuniting for Philip's funeral would help ease tensions between William and Harry over his and Meghan's recent Oprah Winfrey interview, and their decision to step back from royal duties. This was the first major event where the brothers were reunited, following last March when Harry and Meghan were in the U.K. for their final royal engagements.
Former prime minister Sir John Major said: "I hope very much that it is possible to mend any rifts that may exist."
On Charles's new titles, one source said: "All titles held by the Duke of Edinburgh will revert to the Prince of Wales." Another source said: "The Queen is fully aware of this and in agreement."
As heir to the throne, he will retain the title of Prince of Wales, which the Queen conferred on him as a child, along with being the Earl of Chester, by letters patent in 1958. The official investiture was not held until July 1, 1969, at Caernarfon Castle.
It is understood that once Charles becomes king, it was Prince Philip's wish that his youngest son, Prince Edward, currently Earl of Wessex, would become the Duke of Edinburgh.
The letters patent issued when Prince Philip was given his title in 1947 established that the Prince of Wales would gain the title of Duke of Edinburgh through the line of succession. But when Charles ascends to the throne, the title will "merge with the crown", meaning it can be regranted.
Source: The Daily Mail