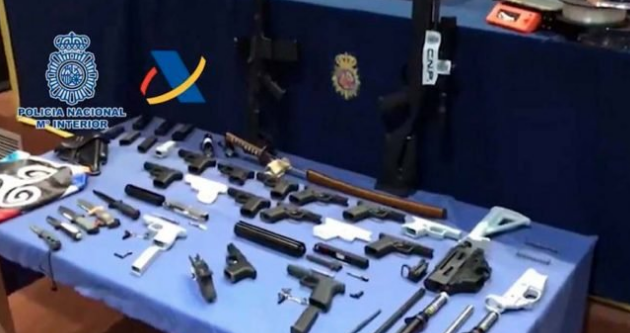 POLICE in Spain have dismantled the first 3D weapons printing workshop.
A 3D weapons printing workshop in Spain has been dismantled by the National Police and the Tax Agency. In the workshop, located in Santa Crus de Tenerife, a person has been arrested and the place was found to have various machinery and short weapon frames made by 3D printing.
This Sunday, the General Directorate of the National Police reported this pioneering operation, of which the investigating court number three of Santa Cruz de Tenerife has removed the secrecy of the proceedings following police actions that were carried out on September 14.
Investigators started to look into the actions of the detained after he made purchases on the internet of essential pieces of explosive substances and firearms.
Two 3D printers, 11 spools of 3D printer filament and numerous computer devices that are used for manufacturing were found during the searches. In addition to this, 19 3D-printed handgun frames were intercepted, nine magazines, two silencers, two unnumbered handgun slides, two-barrel rifling pieces, two firing pins, an Airsoft AR-15 assault rifle replica, a carbine with a telescopic sight, several metal tubes to make cannons, a holographic sight, a plastic mould to make frames and various pieces of short weapons.
Officers also discovered two tasers, five knives, a machete, a katana, and various objects with supremacist symbols on them (two flags representing a trisquel and a pistol holster with the emblem of the German National Socialist Army).
Also discovered were over 30 manuals, including a "terrorist manual" on urban guerrilla, military, home-made explosives, the handling and use of firearms and the manufacturing of firearms.
Various chemical substances that could be used in the elaboration of explosive devices such as black powder, aluminium, nitrate and acetone were also found, meaning a TEDAX-NRBQ team was required for their neutralization and a team of Canine Guides that specialise in the detection of these type of substances.
Source: OK Diario