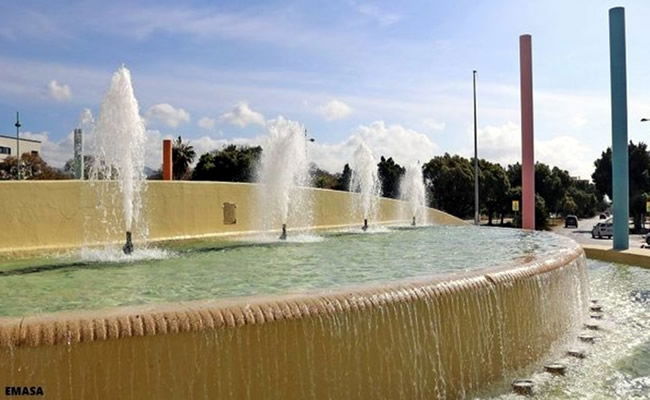 THE Beautiful Teatinos Fountain In Málaga Has Been Totally Refurbished

Málaga town hall, in association with Emasa, the Municipal Water Company of Málaga, after completing a series of repairs to its hydraulic infrastructures, has completely renovated and brought back to life this week, the Teatinos fountain, located in the Pintor Sandro Botticelli square in the city.
During the first phase of the works, the municipal technicians located and completely renewed the pipes connected to the lateral tanks, which were totally deteriorated, and had been leaking water, due to the effect of corrosion.
Finally, a maintenance check was carried out of this ornamental fountain, to guarantee that everything was functioning correctly after the renovation.
The Teatinos fountain, also known as the fountain of Colors or Pencils, was inaugurated in 1999 and is the work of the architect Ángel Asenjo, with a design by José Manuel Cabra de Luna,
This beautiful structure consists of eight ponds of different sizes, with a set of jets, and two concrete walkways that cross it like bridges, and is located in a landscaped gazebo, surrounded by characteristic vertical cylinders painted in various colors, as reported by laopiniondemalaga.es.
The Euro Weekly News is running a campaign to help reunite Brits in Spain with their family and friends by capping the costs of PCR tests for travel. Please help us urge the government cap costs at http://www.euroweeklynews.com/2021/04/16/ewn-champions-the-rights-of-brits-in-spain-to-see-loved-ones-again/