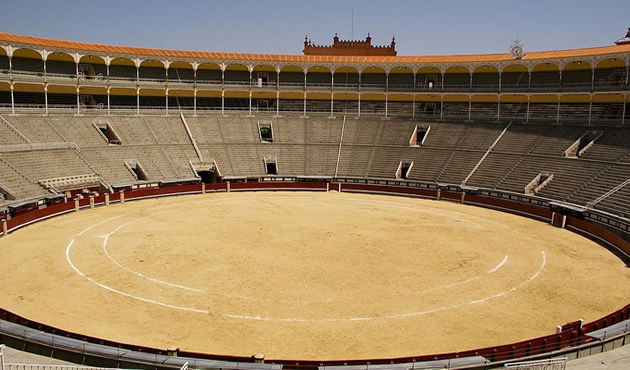 MADRID Authorities To Reopen The Las Ventas Bullring On May 2 For A Charity Bullfight With 6000 Capacity

The Las Ventas bullring in Madrid, which closed its doors to the public in October 2019, is to be the location on May 2 of a charity event, organised by the Community of Madrid, who own the bullring.
This event has been made possible after the Ministry of Health of the CAM ammended a law that was made on June 19, 2020, so that from today, Saturday 17, the bullring is allowed a capacity of 40 per cent, with a maximum of 6,000 people, for "any show related to bullfighting, always having pre-assigned seats, remaining seated at all times and guaranteeing the use of a mask".
Planning of this event has been done to coincide with the closing of the campaign of the regional elections on May 4, with publicity posters already out, and only 6000 of the bullring's 23,000 seats being offered for ticketed sales.
Advertised as participating are, the rejoneador Diego Ventura, the matadors Enrique Ponce , El Juli, Miguel Ángel Perera, José María Manzanares and Paco Ureña, and the bullfighter Guillero Rodríguez, a student of the José Cubero Yiyo Bullfighting School.
Nobody taking part in this event is getting paid, according to the Ministry of the Presidency, including the cattle ranches of El Capea, Juan Pedro Domecq, Garcigrande, Victoriano del Rio, Fuente Ymbro, Jandilla, and El Parralejo, with the money generated being used "to alleviate the economic situation of the groups in the bullfighting sector most affected by the pandemic".
The new rules also indicate that "among the groups of people who acquire tickets jointly – a maximum of six persons – there must be at least one empty location, both in the row in front, and in the row behind, and also on both sides of the group".
It is also specified that social distancing must be respected, and to help facilitate this, the doors will open "in advance, enough to allow staggered access, as well as the exit of the public, which will be done by zones and in an orderly manner".
The sale of alcohol or food will not be allowed, and smoking must take place at least two metres apart from the next person, but, "In any case", warns the law, "the promoters and organisers, public or private of these shows, must request the General Directorate of Public Health of the CAM the risk assessment of each event", as reported by elpais.com.
The Euro Weekly News is running a campaign to help reunite Brits in Spain with their family and friends by capping the costs of PCR tests for travel. Please help us urge the government cap costs at http://www.euroweeklynews.com/2021/04/16/ewn-champions-the-rights-of-brits-in-spain-to-see-loved-ones-again/