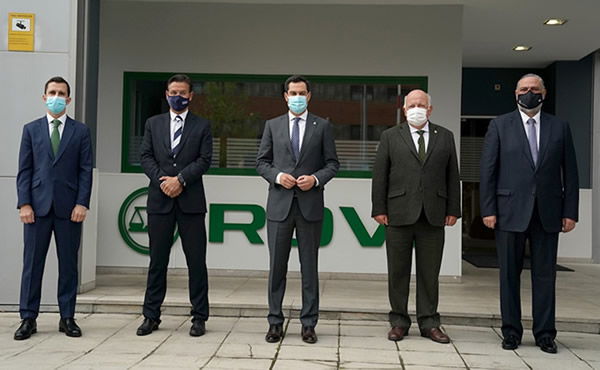 JUANMA MORENO And Jesús Aguirre Visit The Rovi Vaccine Facility In Granada
Juanma Moreno, the President of the Junta de Andalucía, along with Jesús Aguirre, the Minister of Health and Families, has paid a visit to the Rovi pharmaceutical laboratories in the Granada Health Technology Park, where the active ingredient in the Moderna vaccine is now being manufactured.
Luis Salvador, the mayor of Granada accompanied the delegates from the Junta on their tour of the facility, to witness first-hand the location that is aiding in the fight against Covid-19, and simultaneously placing Andalucía firmly on the world medical map, with its scientific and technological development playing an influential role in this sector.
The manufacture of the vaccine locally of course places Andalucía in a very advantageous position, with the prospect of being self-sufficient, but Mr Moreno was quick to stipulate that he will be strictly loyal to the whole of the State and the EU, in terms of the acquisition of vaccines, while at the same time, taking advantage of all the possibilities that are loyally and legally enabled for the supply and administration of vaccines in the Andalucían community.
He said, "Andalucía has become a strategic point in the fight against the pandemic and is showing Spain and the world that we are a land of vanguard, capacity, and talent, which is looked upon with healthy envy for all that we are capable of, to do, and that fills us with pride".
Mr Moreno continued, "Andalucía has a powerful health research and innovation system with more than 100 million projects annually, more than 1,200 active projects, more than 400 full-time researchers, five health research institutes, three thematic centres, and various platforms".
Adding, "Andalucía has undertaken the recovery. It is a community that generates trust, produces talent, and provides qualification to any project", as reported by juntadeandalucia.es.
The Euro Weekly News is running a campaign to help reunite Brits in Spain with their family and friends by capping the costs of PCR tests for travel. Please help us urge the government cap costs at http://www.euroweeklynews.com/2021/04/16/ewn-champions-the-rights-of-brits-in-spain-to-see-loved-ones-again/