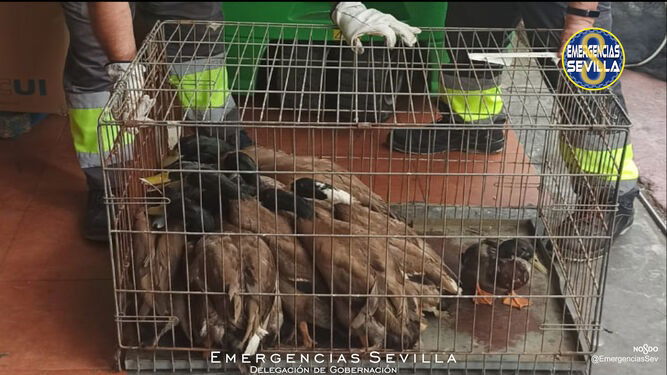 Spanish Authorities Seize 450Kg Of Rancid Food From Oriental Supermarket In Sevilla.
The Local Police of Sevilla and the Veterinary Inspection of Consumption seized about 450 kilograms of meat, organs and bones that were on display and being offered for sale in an oriental supermarket located in the Carretera Amarilla Industrial Park Sevilla.
Below, Spanish Authorities Rancid Food Seizure, Video courtesy Emergencies Sevilla.
🟥[Ampliación] Agentes de @PoliciaSevilla y la Inspección Veterinaria de Consumo decomisan 450 kg de carnes y precintan parte de un establecimiento oriental.
C/ Transporte #Sevilla
Con @LipasamSevilla.#Gobernación @Ayto_Sevilla
+➡️https://t.co/MjWYwxoVUAhttps://t.co/xFLEZkNhij pic.twitter.com/UxiLYXsARX

— Emergencias Sevilla (@EmergenciasSev) April 16, 2021
This raid came about as a result of another inspection that was carried out on Wednesday, April 14, in a Chinese restaurant on Transporte Street on the same industrial estate. Inspectors discovered that there were about 20 live wild ducks roaming loose and kept in unsanitary conditions waiting to be used by kitchen staff in the establishment.
Today, Friday, April 16, the Local Police accompanied the Veterinary Inspection to Transport Street, to inspect an oriental food supermarket there. A team from Lipasam participated in the search, in the establishment, there is an area with showcases that display processed food for sale.
These were poorly covered, unidentified and with no production date or markings at all. This is where the first seizure of about 30 kilos of food such as fried ear, duck meat, tongue, veal stomach, duck and chicken legs, white tripe and veal tendon, among others was made.
In the butchery section, consisting of freezers and refrigerators, officers found and seized more than 270 kilos of meat which was in very poor condition, without any identification or labelling and certainly not safe for public consumption.
On the request of the Veterinary Inspection team, the kitchen, warehouse and interior patio were sealed off by the police due to serious breaches of basic health requirements and deplorable conditions of cleanliness and hygiene- constituting a danger to public health due to environmental and sanitary contamination.
The large quantity of pork and beef bones, cow and pork stomachs and other entrails apparently stood out as the most rancid food items. Likewise, three large garbage bins were seized inside which were used to brew an oriental fermented drink, That too was in a  poor condition, one of the officers even commenting on the stench it gave off.
On inspection of paperwork and looking through records, it was discovered that the establishment is a repeat offender and has breached public hygiene laws a total of nine times before!
All confiscated merchandise has been ordered to be destroyed by an authorised waste management company at the expense of the company that owns the establishment.
The Deputy Mayor Delegate of the Interior, Juan Carlos Cabrera, has highlighted "the importance of citizen collaboration to alert of this type of non-compliance, as well as such as the great work carried out by the Local Police, the Consumer Service and Lipasam in this action to withdraw from the market this important quantity of products that were destined for human consumption ".
Before you go- we need your help!
The Euro Weekly News is running a campaign to help reunite Brits in Spain with their family and friends by capping the costs of PCR tests for travel. Please help us urge the government to cap costs at http://www.euroweeklynews.com/2021/04/16/ewn-champions-the-rights-of-brits-in-spain-to-see-loved-ones-again/
Source: Diariodeseville