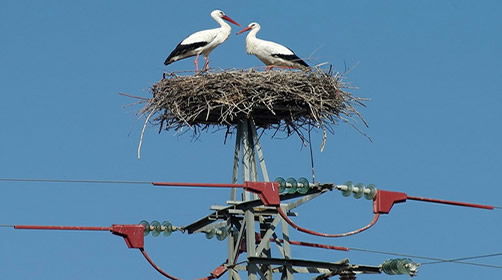 ENDESA The Spanish Electricity Supplier Is Being Sued Over The Electrocution Of Birds By Cables And Pylons

In a landmark case, brought by Antoni Pelegrín, the attorney general for the environment in Barcelona, against Spanish electricity company Endesa, the company is being prosecuted over the deaths of hundreds of birds that were electrocuted on overhead cables, and pylons, with Pelegrín claiming Endesa failed to comply with regulations designed to protect wildlife.
After a three-year investigation, Antoni Pelegrín has brought a case for ecological crimes against the Spanish electricity supplier, and six of its senior executives, for allegedly failing to meet safety requirements, claiming that 255 storks, eagles, peregrine falcons, and vultures, were electrocuted on pylons near Osona in northern Catalonia,  between 2018 and 2020.
He also claims that again, in northern Catalonia, 72 migrating white storks were electrocuted in Sant Quirze de Besora, over three days in August 2018, while pointing out that Endesa is obliged to adhere to laws "to adopt the necessary measures to avoid risks or damage incurred through transporting electricity not only to people but the flora, fauna and the environment in general".
According to the Spanish Ornithology Society (SEO), this problem occurs worldwide, but is more prevalent in Spain, as millions of birds cross the Pyrenees every year, with the Iberian peninsula and the strait of Gibraltar lying on one of the principal avian migratory routes, stating that around 33,000 birds of prey are killed this way in Spain each year, including two species – the Golden, and Bonelli's eagles – that as a result of continual electrocutions, are now endangered.
Larger birds of prey are more at risk as when they spread their wings they touch an inadequately insulated pylon and become, fatally, part of the circuit, with the SEO's species conservation officer, Nicólas López – who was involved in the case against Endesa – telling The Guardian newspaper that there are approximately a million kilometres of electric cables in Spain, along with thousands of pylons.
Mr López said, "These cause the death not only of thousands of birds through electrocution but our report estimates around 5 million die through colliding with the cables. In France, it's thought that at least 1 million birds are electrocuted each year. A government report suggests that the figure in Spain is nearer 3 million".