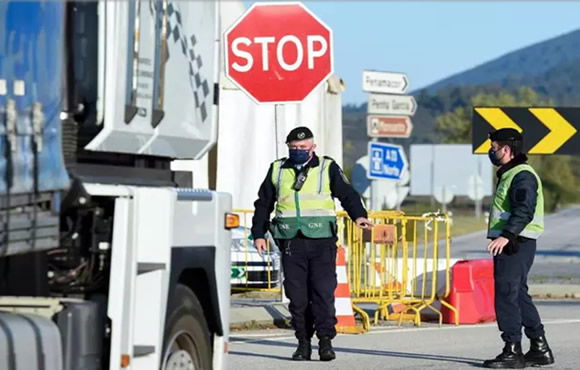 PORTUGAL Extends Land Border Controls With Spain For Another 15 Days
The Portuguese government has extended the land and river border closures with Spain for another 14 days, up until April 30, maintaining the schedules and rules established in all Authorized Passage Points (PPA).
Crossings between Portugal and Spain remain limited, with only 18 authorized points allowing the international transport of goods, duly documented cross-border and seasonal workers, and emergency and rescue vehicles.
An announcement by the Ministry of Internal Administration said that at the same time as Portugal extends its border closures, that also, "essential" flights to or from the United Kingdom and Brazil will resume from this Friday, maintaining restrictive measures on air traffic due to the pandemic.
Passengers entering Portugal from South Africa, Brazil, or countries with a Covid-19 incidence rate equal to, or greater than, 500 cases per 100,000 inhabitants must isolate for a period of 14 days.
That list of countries whose citizens can only make "essential" trips, currently includes Czech Republic, France, Bulgaria, Sweden, Estonia, Croatia, Poland, the Netherlands, Slovenia, Hungary, and Cyprus.
Similarly, passengers from countries with an incidence rate of 150 cases or more per 100,00 population, which includes, Switzerland, Germany, Romania, Luxembourg, Austria, Denmark, Belgium, Lithuania, Italy, Latvia, Greece, Spain, Slovakia, and Norway, can only fly into Portugal for "essential" purposes, defined by the authorities as including students, professionals, family reunions, health or humanitarian reasons.