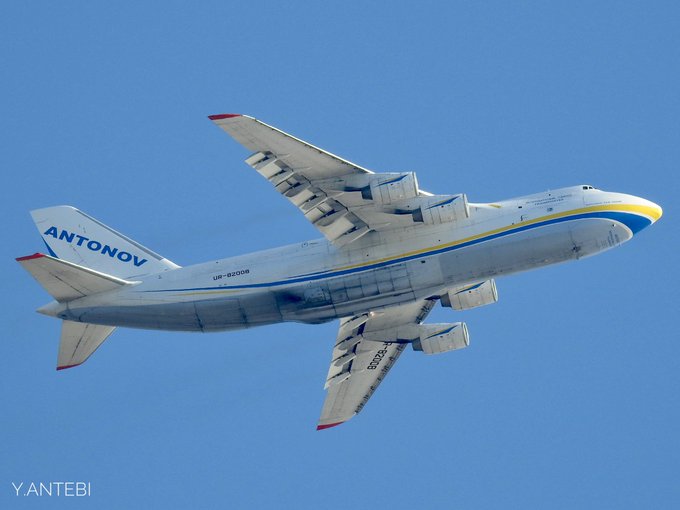 World's second largest cargo plane lands in Valencia to remove plastic waste.
MANISES airport in Valencia was full of excitement on Wednesday, April 14 thanks to a rare visit from the second biggest cargo plane in the world, an Antonov AN-124, which arrived at 10.52am from Leipzig in Germany before moving on to Ireland. According to AENA, the aircraft, which performs 'special and infrequent' journeys, is capable of transporting up to 150 tonnes of cargo, and in this case, its mission was to remove surplus plastic waste from the Valencian Community. Only the Airbus A300-600ST, nicknamed 'Beluga', can carry more.
According to Spanish news outlet Informacion, the plane, which arrived in Spain empty, left for Shannon in Ireland shortly after 4pm with its hold practically full, after 80 bags of plastic were loaded onto it. Because of the cost associated with running the enormous aircraft, it is usually only chartered by large companies or public bodies for special missions, such as when essential medical supplies were delivered to Spain at the height of the coronavirus pandemic.
The onset of the pandemic has seen a huge global increase in the use of disposable plastic from face masks and gloves to name but a couple of culprits. With growing concerns over global warming, many of the larger companies have vowed to redouble their commitment to going green. Perhaps at the forefront of this is Spanish supermarket giant Mercadona, who, as part of its 6.25 Strategy to reduce the use of plastic by 25 per cent by 2025, has already eliminated all single-use disposable plastic products from its stores and replaced them with more sustainable materials. Through this initiative, the company will invest some €140 million to make all packaging recyclable and, in turn, recycle any plastic waste it might generate.
In January, the grocery chain stopped using plastic bags in its physical stores and online deliveries, replacing them with compostable bags made from potato starch, resulting in a 3,200 tonne reduction in plastic.