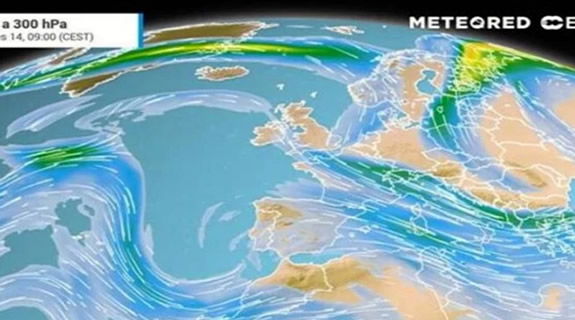 ASH Particles From St Vincent's La Soufrière Volcano Will Fall On Spain This Wednesday.

Meteored, one of the leading providers of worldwide meteorological information, has predicted that this coming Wednesday April 14, ash particles will arrive in mainland Spain from the La Soufrière volcano that is currently erupting in the Caribbean island of San Vicente.
A storm is slowly moving across the Atlantic, and is forecast to hit around Galicia on Wednesday April 14, and as the wind flow moves the storm from west to east, it could carry with it some of the ash and sulphur from the volcano, causing "extremely unusual" particles to fall.
The cold air mass that the storm brings will apparently cause a drop in temperatures and cause intense and irregular showers in the western and southern half of Spain, with a particularly intense storm expected to hit the Canary Islands of Tenerife, La Palma, and Gran Canaria.
Meteorologist Francisco Martín predicts that with this storm will come the ash particles and sulphur of the La Soufrière volcano, which erupted on April 9, sending large amounts of ash and sulphur into the troposphere that are already crossing the Atlantic.
Martín points out that in the next few hours, these emissions could first reach the Canary Islands and then the south of Spain, although they will be present at a few thousand kilometres of altitude, so he believes that, in principle, they will not represent a danger to people.
By Thursday, Martín says that the storm will coincide with a new storm heading from North Africa that will be located in the Straits of Gibraltar, so he predicts heavy rainfall in the south of Spain, and especially in the extreme southeast, expected to be accompanied by a strong east wind on the Mediterranean side, as reported by moncloa.com.