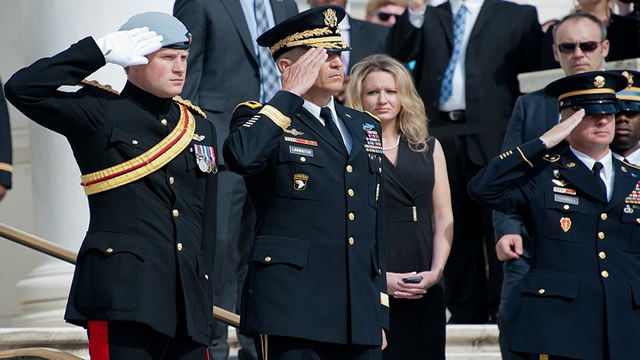 PRINCE HARRY Unlikely To Wear A Military Uniform At His Grandfather's Funeral

It is thought that Prince Harry will not wear any military uniform for the funeral of the Duke of Edinburgh, his grandfather, having been stripped of his military roles by the Queen, after deciding to quit royal duties last year.
Harry had taken over from Prince Philip as Captain-General of the Royal Marines, but was subsequently stripped of that role, along with two other honorary military positions he had been bestowed, which means he will not be able to wear any of those corresponding military uniforms at official events.
When he married Meghan at Windsor Castle in 2018, Harry wore his Blues and Royals uniform, having served with the Household Cavalry in Afghanistan, and risen to the rank of lieutenant, but, it is expected that for the funeral he will have to dress like all other former servicemen, in a suit and medals.
Buckingham Palace has announced that it will confirm all details later this week, but the other Royal Family members, including his father, Charles, the Prince of Wales, the Duke of Cambridge, and the Earl of Wessex are all expected to attend in regimental dress.
There is doubt surrounding whether Prince Andrew, the Duke of York, will wear any military uniform, or if he will also attend in a suit, after stepping back in 2019 from public life, after getting caught up in the publicity involving his friendship with the late convicted paedophile, Jeffrey Epstein, as reported by dailymail.co.uk.