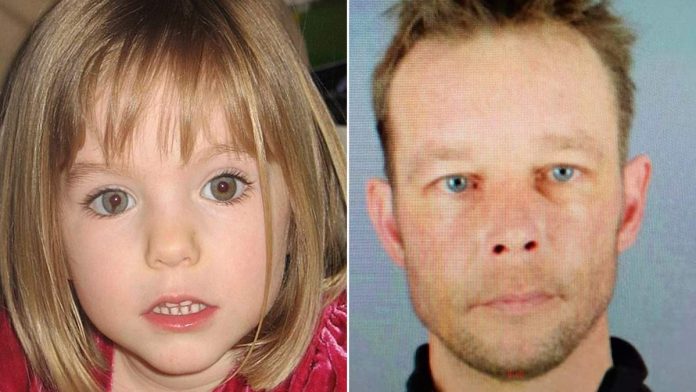 Madeleine McCann Probe By German Prosecutors "Still At Full Speed" 10 months after paedo suspect named.
It will soon be the 14th anniversary of Madeleine's disappearance and so far no one has been arrested or charged with the crime. However, German investigators say they still remain very optimistic, nearly a year after Christian Brueckner was identified
Prosecutors have insisted they "remain optimistic" that they will crack the Madeleine McCann mystery – as the 14th anniversary of her disappearance quickly approaches. Hans Christian Wolters said a German investigation into suspect Christian Brueckner, 44, is running "at full speed".
Wolters now hopes a new documentary on Madeleine McCanns investigation will help uncover even more clues.
He told the Sunday Mirror: "Even if the public does not notice it much, our investigations in the Maddie case continue to run at full speed. We still assume the accused, Christian B, killed Madeleine. Even though the investigation of a case that will be 14 years old in a few days is very difficult after all this time, we remain optimistic and hopeful that we will be able to solve the crime. In doing so, we continue to work closely with the Metropolitan Police and the Portuguese law enforcement authorities, regardless of Brexit."
Mr Wolters said in June last year that he believed Madeleine is dead and identified convicted paedophile Brueckner as the main suspect.
Brueckner is at present serving seven years for the rape of a 72-year-old woman in Praia da Luz, where Madeleine vanished from an apartment on May 3, 2007 – days before her fourth birthday.
Madeleine McCann main suspect Christian Brueckner is being investigated over three more sex crimes in Portugal.
Detectives searched the former home of the suspect, Christian Brueckner, in October 2020 and compared DNA found at the resort, in Praia da Luz, where Madeleine vanished in 2007 – potentially linking him to three more sex crimes in the country.
Related: Madeleine McCann Investigation Update
Police officers from the UK, Portugal and Germany involved in the disappearance of Madeleine McCann said in January this year that they are now far closer to snaring the main suspect in the child's disappearance, convicted German paedophile Christian Brueckner.