Extreme Animal Cruelty Undercovered At Vivotecnia Laboratory In Madrid.
Cruelty Free International has undercovered acts of gratuitous and deliberate cruelty carried out in a Madrid laboratory.
Procedures captured by vivid and disturbing images, appear to show malpractice, so the company, which performs toxicity tests, would be systematically violating Spanish and European laws on the protection of animals for scientific purposes
An exclusive investigation published by the NGO Cruelty Free International (CFI) reveals terrible acts of cruelty against animals in the Madrid laboratory Vivotecnia, an organization which is dedicated to contract research (CRO) for pharmaceutical and biotechnology companies.
The company conducts toxicity tests for the cosmetic, chemical, agrochemical, biocide and health product industries. According to El País, as the pandemic started, the Ministry of Science and Innovation of Spain sought advice from Vivotecnia to test experimental vaccines against COVID-19 in macaques.
Disturbing video of animal cruelty
The heart-wrenching video of the undercover investigation, obtained by CFI, is almost unbearable to watch, it shows animals tortured by those who should protect them, beagle dogs breed (used for their docility), monkeys, pigs only a few weeks old, rabbits, mice and rats.
Rabbits dying, dogs suffering, pigs or monkeys screaming at the clear hostility and impatience of the staff, the very people who know that these animals are their responsibility and are held captive at their complete mercy.
The company has rejected the existence of a culture of abuse of animals used in experiments. In a statement to The Guardian, they said they work to "guarantee the quality of our work, always taking into account the animal welfare".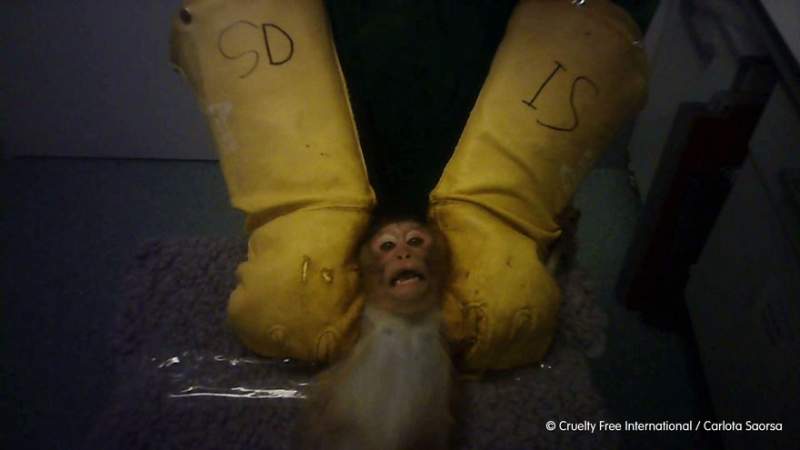 Extreme Animal Cruelty Undercovered
The cruel behaviour of employees towards animals

Dogs separated from their fellow species in inappropriate enclosures without any type of bed to rest or toys, as well as the absence of any type of recreation

Pigs kept in a darkened room on a hard slatted floor without any space for rest or environmental enrichment

Use of inappropriate handling techniques to grasp or restrain animals (by the ears, tail, or back of the neck, for example)

Animals continually suffer more than necessary from practices used in routine procedures, such as inserting oral probes or taking blood samples 
Cruelty Free International has demanded that the Community of Madrid immediately closes the Vivotecnia laboratory, cancells its licenses and launches an independent investigation. A petition on Change.org to close the lab has so far reached nearly 5,000 signatures.
A recent survey carried out by Savanta ComRes in June 2020 showed that the majority of people in Spain do not want animals to suffer, 71% of adults said that The European Union should start setting deadlines now for ending animal testing.