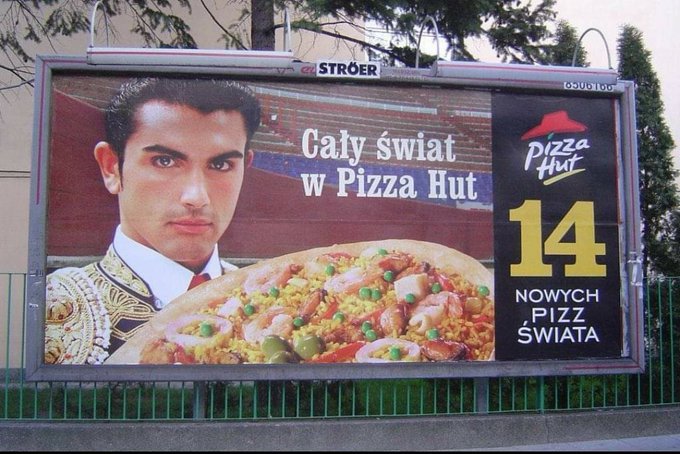 PIZZA HUT unveils a controversial 'Spanish paella' pizza and opinions are definitely divided
Let's face it: pizza toppings are a topic that divides opinion. While some people turn green at the thought of having fish on a pizza, others scorn the addition of the humble pineapple. Spanish-style toppings are nothing new, and a sprinkle of fiery chorizo or thin slices of juicy Serrano can create a mouth-watering combo, but many people think Pizza Hut has taken things a step too far with their new 'paella' pizza, complete with seafood and rice.
A Spanish man's post has almost broken the internet after he posted a picture of a Pizza Hut billboard he spotted in Poland. The advert sports a man, dressed in a bullfighting costume, proudly displaying their new creation whose ingredients include rice, squid, mussels, peas and red peppers.
The Tweet, which has already received more than 13,000 'likes' was accompanied by his rather ironic caption:
"And I looked and saw a sign in Poland; and a bullfighter advertised a pizza on it; and the pizza was paella."
Needless to say, the post received dozens of comments, with many wondering if they should be more insulted at the stereotypical bullfighter or the stereotypical food.
One Twitter user pointed out that this is not a pizza but rather "rice with things," while another joined the debate scoffing at the idea that it even resembled the iconic Spanish dish, writing:
"Well, as a Valencian I cannot help but intervene here to make this clarification: that is not paella."
It would seem that the famous rice dish causes as much debate as pizza topping themselves, with another user making fun of a certain British chef's interpretation of paella.
"I don't know which is worse if the Polish paella pizza or the Jamie Oliver paella with chorizo ​​…" they wrote.
"Y miré y vi un cartel en Polonia; y un torero anunciaba una pizza en él; y la pizza era de paella" Apocalipsis 5:6-14 pic.twitter.com/fAAacG9Xl7

— Andresu (@asturscottish) April 8, 2021
Source: COPE