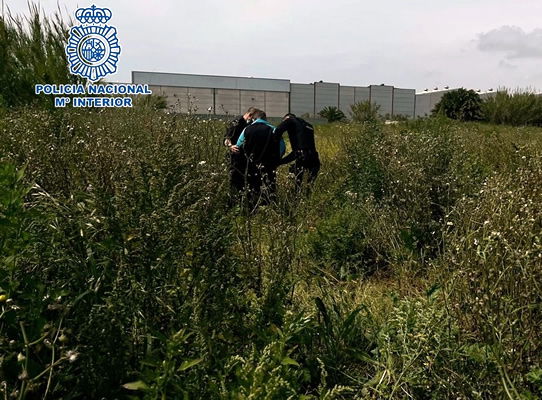 MOTRIL National Police Rescue A Man Who Is Submerged And Drowning In A Boggy Ditch

Motril National Police officers conducted an excellent rescue operation on Wednesday 7, of a man who had fallen into a boggy ditch in a field in the municipality and was slowly sinking below the mud.
The CIMACC-091 National Police headquarters received a call at around midday from a man who was clearly in a state of panic, reporting that he had accidentally fallen into the muddy ditch and that he was slowly sinking and in fear of drowning, but, explained that he had no idea of his exact location.
Patrols of officers were mobilised to search for the stricken man, and they quickly managed to narrow his position down to be somewhere between Avenida Sierra Nevada and the funeral home in the town of Motril, immediately starting their search in that area, on foot and in vehicles, with one officer staying in permanent contact with the man on his mobile, to reassure him that help was on the way.
As well as searching visually, the officers sounded the sirens on their vehicles in the hope that the man would hear them and tell the officer who was on the mobile with him, while also trying to locate his coordinates, involving the 112 emergency services to try to geolocate the man.
More police resources were called in, along with Motril Fire Brigade, as well as requesting a rescue helicopter, until eventually he was located, wounded, clearly in a state of shock, and submerged one and a half metres in a muddy ditch, with his legs completely stuck.
Four officers made a chain and together removed the man from his ordeal in the ditch, and he was immediately transferred to the Santa Ana hospital to be treated for his hypothermic state, from where he was discharged several hours later, as reported by granadadigital.es.