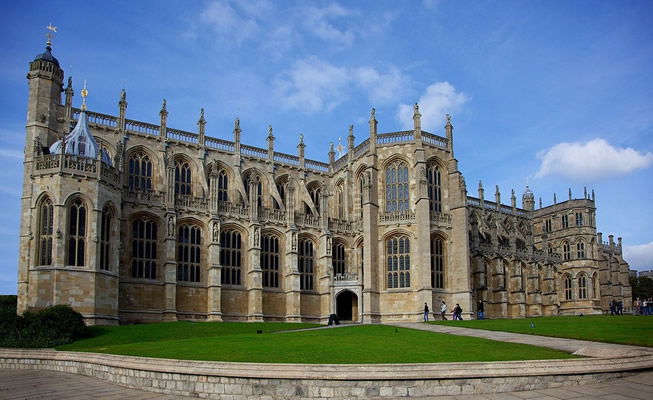 DUKE OF EDINBURGH'S Funeral To Take Place In St George's Chapel Next Saturday, April 17

Buckingham Palace has announced today that the Duke of Edinburgh's ceremonial royal funeral will take place at 3pm, next Saturday, April 17, at Windsor Castle, in St George's Chapel, with a minute's national silence being observed as it begins.
This final farewell to Prince Philip, who passed away yesterday, aged 99,  is guaranteed to be like no other royal funeral the country has ever seen, as the Queen and other members of the royal family attend all wearing facemasks, and having to social distance, while following the coronavirus guidelines.
The funeral will be televised, and will take place entirely within the grounds of Windsor Castle, but all public elements have been cancelled, said a Palace spokesman, with it also said that Prince Philip had asked for a low-key funeral.
Prime Minister Boris Johnson gave his recommendation regarding national mourning, to the Queen, which was accepted, with a period of mourning to run from yesterday, Friday 9, up to and including the day of Prince Philip's funeral, but, true to form, according to a senior royal official, the Queen said engagements will continue appropriate to the circumstances.
A senior Palace official said that a specially modified Land Rover that the Duke helped to design will transport the coffin from Windsor Castle to the chapel, with the Prince of Wales and senior royals following behind it, on foot, but with the coronavirus restrictions.
Only 30 mourners are allowed to attend, which gives the Palace another headache, over who will be invited, but it is expected the be Philip's children, grandchildren, and close family, with a Palace spokesman saying that the Duchess of Sussex has been advised by her doctor not to travel, after Meghan had apparently tried to travel but did not receive the medical clearance to board a plane.
Prince Harry will attend the funeral according to sources at the Mirror, after he reportedly spoke with his father Prince Charles, as well as Princesses Beatrice and Eugenie about coming home, with an insider saying, "He said he wants to be with everyone and was already making arrangements to come home. He will want nothing more than to be there for his family, and particularly his grandmother, during this awful time", as reported by dailymail.co.uk.