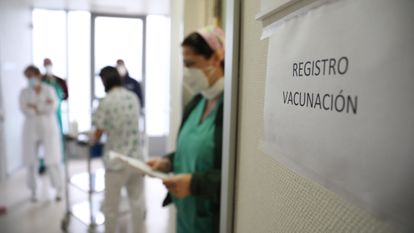 Andalucía Begins Vaccination Of High Risk And Vulnerable GroupsToday.
Andalucía has begun the vaccination of groups considered at risk, such as cancer patients who are receiving treatment and patients with organ transplants that are immunosuppressed. The other group of people included are the one's on dialysis and any Down Syndrome people over 40 years of age.
The regions Minister of Health and Families, Jesús Aguirre, detailed that the community has between 20,000 and 25,000 people who are part of these high-risk groups and confirmed the start of this new phase of vaccinations.
The vaccination plan is now progressing at a good pace, since initially it was planned to vaccinate these groups from April 15 so they are slightly in front for the first time.
Earlier in the week, Monday 5, April, The Andalucían Health Service began to vaccinate members of the population between 70 and 79 years old.
Aguirre stressed that the priority of the Andalucían Government is to "accelerate to the maximum" the administration of vaccines against Covid-19 and assured that "if we manage to have a vaccination volume of around 40 or 45% when we end June, we will have a very calm summer ". He added that the variability in the number of doses that Andalucía receives makes the task much more difficult to plan correctly.
By provinces, as indicated by the health Ministry, Sevilla has given out a total of 407,717 doses and 118,899 people have already completed the vaccine course of two doses, while in Malaga the total doses so far amount to 327,726 and the number of people who have received both doses is 93,820.
Andalucia Reports A Rise In Cases And Hospital Admissions After Lowering Restrictions Over Easter.
Andalucía registered its seventh consecutive increase in hospitalised patients suffering from the coronavirus on Friday, April 9. The number of people admitted to the hospital for coronavirus had risen to 1,372, 32 more than the day before and 340 more than last Friday.
Source: Okdiario
It is still mandatory to wear masks during the pandemic, Amazon has a great range in stock, click on the link to see what they have on offer. https://amzn.to/3826Rmr