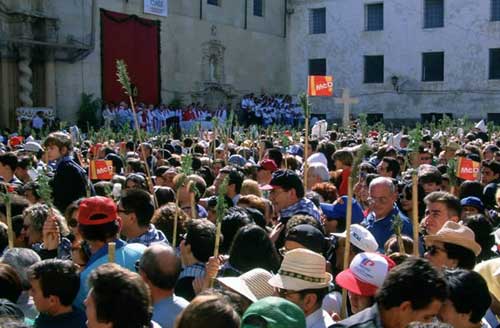 Alicante to deploy 350 officers to police La Peregrina 2021 at Santa Faz Monastery on Thursday, April 15.
DURING a press conference, Mayor Luis Barcala, called for "responsibility and good sense" to avoid crowds and urged the public not to go to the monastery on the Holy day.
During the one-day Alicante pilgrimage, often compared to the famous Rocío of Andalucia, pilgrims' staffs are normally distributed early in the day and an obligatory lunch-stop is made before arriving at the monastery.
But celebrations will be more low-key this year, and 350 police officers will be deployed to ensure public health and safety.
Urging people not to go the monastery on the day of La Peregrina, Barcala said: "It will be closed during the morning, as the Santa Faz will be moved to the castle of Santa Barbara for the 'Blessing of the City'."
"The current situation leads us to think of a Santa Faz 365 days. That is, we have a whole year to comply with the tradition and not just stick to the day of La Peregrina".
"Both the Mass and the Blessing will be able to be followed on television. We are so close to normality and it is worth making an extra effort to safeguard our health".
The Official Mass, which will be behind closed doors, will be officiated by the Bishop of Orihuela-Alicante, Jesus Murgui, at 10 am.
Until Sunday, April 18, the monastery will remain open from8.30am until 8.30pm, except on the Day of Santa Faz, when 50 volunteers will also assist with crowd control.
Alicante City Council met on Monday, March 22 with representatives of Santa Faz and decided to suspend the annual pilgrimage and celebrate one mass behind closed doors instead.
Santa Faz is traditionally celebrated on the Thursday after Easter week, and involves a pilgrimage known as La Peregrina of 8 km to the San Juan monastery, where the piece of cloth that is said to have been used to wipe Christ's face on the way to the Cross is kept.