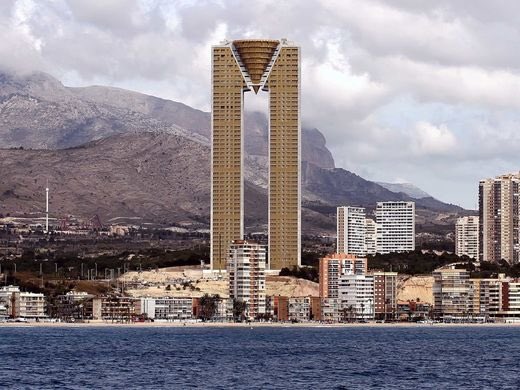 TALLEST residential tower in Spain set to open in Spain's Benidorm this summer
After 15 long years under construction, Benidorm's iconic Intempo building, which dominates the city's skyline with its two 193-metre-tall towers joined by a golden M-shaped dome, is finally set to welcome visitors this summer. According to the tower's owners, "90 per cent of the work is already finished" and the tallest residential building in Spain will throw open the doors of its 47 floors to guests in the coming months.
The stunning structure got off to a rocky start when construction began back in 2006 under Basque businessman Jose Ignacio de la Serna. The project quickly ran into trouble and was eventually bailed out of its €108 million debt in 2012. Finally, the investment fund Strategic Value Partners (SVPGlobal) took over in 2018 and has committed a significant amount to updating the 256 homes in the building.
Now, the property is set to become the epitome of luxury and glamour on Spain's Costa Blanca. Faced with a problem that some of the apartments on the upper levels didn't have the desired sea view, but instead overlooked the Terra Mitica theme park, the developers simply combined two units to create dual-view homes which are expected to go on the market for a whopping €1 million each.
The promoters are determined to provide everything necessary for luxury living in Spain, and so the building will come fully equipped with resident's bars, restaurants and bespoke spa and swimming pools dotted throughout its 7,100 square metres of communal areas. To add to the feeling of luxury, the developers are working hard to create a resort model with the feel of a hotel but without being over-run with tourists, and so have committed to regulating the seasonal renting of the high-class homes.
According to Hosbec, Benidorm's employer's association, it is estimated that the city will gain some 13,000 additional hotel rooms in coming years.
"The stoppage caused by the pandemic has delayed the plans," Hosbec's general secretary, Nuria Montes, told Spanish daily El Espanol, "although the growth projection remains intact."