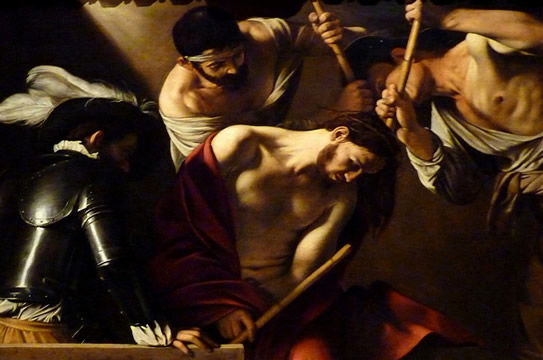 Spanish Government Blocks The Auction Of A Possible Long-Lost Michelangelo Caravaggio Masterpiece

A painting called 'Crowning of Thorns', is due to go up for auction at the Ansorena auction house in Madrid, with a starting price of £1,300 (€1,500), listed in the sale catalogue as being a work attributed to Spanish artist José de Ribera.
The sale has suddenly been blocked by the Spanish government, just hours before it was due to go under the hammer, amid suggestions that it could be a long-lost masterpiece by the Italian Renaissance artist Michelangelo Caravaggio, and if so, could be worth in the region of £109 million (€150m).
Experts have been called in to examine the 17th Century oil painting, which depicts Jesus just before his crucifixion, and they have declared it 'not for export', amid concerns that the work could be sold abroad.
A spokeswoman at the Ansorena auction house told AFP, "As to who painted it, different experts are studying the work and right now, we have no further information. The painting has been declared 'not for export' and will not be able to leave Spain".
José Manuel Rodríguez Uribes, Spain's Minister of Culture said, "The painting is valuable, we hope it's a Caravaggio", with AFP quoting a source from the culture ministry as telling them that the Prado museum in Madrid had said that there was "sufficient documentary and stylistic evidence to consider that the painting may be an original work by Caravaggio".
Maria Cristina Terzaghi, an art history expert told Italy's La Repubblica newspaper, "It's him", pointing out that the cloak worn by Jesus in the painting was similar to the red used in the cloak of Salome in Caravaggio's painting of Salome with the head of John the Baptist.
AFP
quoted their source at the culture ministry as saying, "It is now necessary to carry out an in-depth technical and scientific study of the painting and engage in academic debate as to whether its attribution to Caravaggio is truly plausible and acceptable to the scientific community", as reported by
bbc.com
.