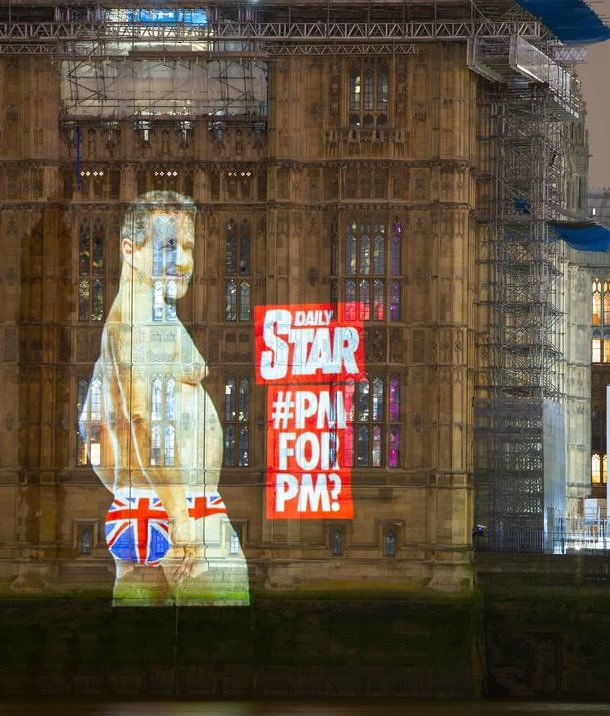 Piers Morgan Lights Up the Houses of Parliament and Unveils the Piers Party.
LAST WEEK, the Daily Star jokingly asked the question: "Would PM be a better PM than our current PM?" and last night (February 9) the newspaper took it one step further by beaming a picture of the controversial presenter onto the Houses of Parliament.
It appears that Piers Morgan has really run with it too and could well be on board with the idea, stating on Good Morning Britain that he has even come up with a 20-point manifesto that he hopes will lead him to power.
This morning (February 10), Piers upped the ante, unveiling a 'skit' on GMB showing an 'advert' for the Piers Party, maybe revealing that a potential run for Prime Minister isn't too far out of the question.
The voiceover tells viewers: "Now follows a rather peculiar political party broadcast from the Piers Party.
"Warning: some viewers may think the world has gone nuts.
"In a world where political leaders are trying their best to be politically correct, PM does not do PC."
The broadcast then cuts to Piers slating Prince Harry and Meghan Markle, branding them "ginge and cringe."
He is then seen asking Susanna: "Most people are weird though, aren't they? Let's be honest."
The voiceover continues: "When we are absolutely desperate, nation, we say: PM for PM."
Ann Widdicombe then appears, saying: "Piers may seem like a very good supreme dictator. I will stick with Boris."
Boris Johnson's dad, Stanley, meanwhile, also has his say: "This man is a good man…" while holding a picture of Piers.
"But he is a good man where he is."
The video then ends: "And on that note, we will bring to an end this Piers Party political broadcast."
The Daily Star has also posed another question for the nation to ponder: "Are you Team Piers or Team Bozo (Boris Johnson)?"
Interestingly, odds have been slashed from 500/1 to just 20/1 in a single day for Piers to become the next Prime Minister.
---
Thank you for taking the time to read this news article "Piers Morgan Lights Up the Houses of Parliament and Unveils the Piers Party". For more UK daily news, Spanish daily news and Global news stories, visit the Euro Weekly News home page.