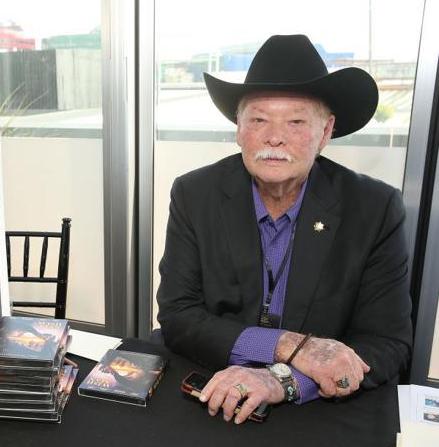 Make-A-Wish Foundation Co-Founder Frank Shankwitz Dies Aged 77.
FRANK SHANKWITZ, who co-created the nonprofit organisation that helps fulfil the wishes of children with a critical illness between the ages of 2 ¹⁄₂ and 18 years old, sadly passed away after battling oesophagal cancer on January 24 at his home in Prescott, Arizona, his wife Kitty Shankwitz told the New York Times.
"Frank's passing has created a loss in our lives that will take time to heal," his family said in a statement on his Facebook page. "However, we are comforted knowing that the legacy he left will continue to carry on in all those who knew him."
"The number of lives he touched throughout the world with the creation of the Make-A-Wish Foundation, his career in law enforcement, his service in the Air Force, as well as the impact he made through all the other organisations he gave his time to in recent years, is a testament to the man he was," the statement said.
Make-A-Wish can be traced back to 1980 when Frank Shankwitz was an Arizona Highway Patrol officer who helped Christopher Greicius, a 7-year-old boy with leukaemia, to live out his dream before he died. According to the Arizona Department of Public Safety, it was Chris' dream to be a Highway Patrol motorcycle officer like the characters on his favourite TV show, "CHiPs."
Shankwitz wanted to make Chris' dream come true but thought the boy might not be physically up for the adventure, saying, "Figuring he'd be brought out in a wheelchair, I was surprised when the door opened and a pair of sneakers emerged."
Shankwitz explained, "Out stepped Chris, an excited 7-year-old boy who seemed so full of life it was hard to believe he was sick." So, Frank gave him a badge and a uniform and even had him take a driving test in his front yard to become a real motor cop. Chris was beyond thrilled."
A few months later Frank created the Make-a-Wish Foundation. Today, Make-A-Wish says it grants a wish to a child every 34 minutes in the United States and also grants wishes to kids in about 50 countries on five continents, according to the company.
"Make-A-Wish is deeply saddened to learn of the passing of Frank Shankwitz," the foundation said in a statement on social media, describing Shankwitz as one of six individuals who started the foundation.
"Thanks to all our generous founders, more than 500,000 children with critical illnesses worldwide have had the chance to experience the long-lasting, life-changing benefits of a wish."
---
Thank you for taking the time to read this news article "Make-A-Wish Foundation Co-Founder Frank Shankwitz Dies Aged 77". For more UK daily news, Spanish daily news and Global news stories, visit the Euro Weekly News home page.