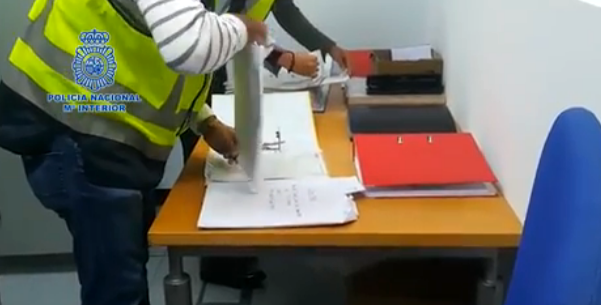 POLICE in Malaga have brought down a gang thought to be behind a €1.2 million fraud.
Officers from the National Police have arrested four people after the group are alleged to have carried out a €1.2 million in Malaga.
The gang are said to have used five companies, one with its headquarters in the Andalucia Technology Park in Malaga, to fraudulently claim more than a million Euros in Feder funding from the European Union.
Police began investigating under operation Federico after suspecting the companies were using invoices and documents from various companies to apply for the funds.
The case was brought to the Malaga Provincial Prosecutor's Office before the Malaga Provincial Police's Economic and Fiscal Crimes Unit were brought in to investigate.
Officers from the unit's Money Laundering and Anti-Corruption group, found the company receiving the funds were made of five separate businesses, four of which supplied the main company with materials they supposedly needed to carry out the work they were receiving the grants for.
According to media reports, the invoices provided were false, in some cases valuing the materials by up to more than 700 per cent of their actual value.
Officers also established the company receiving the funding was more than 90 per cent owned by the businesses supplying it with materials.
Agents from the National Police examined the bank accounts involved and said: "A significant flow of money was found, whose origin was the company receiving the Feder funds and whose main recipients were the rest of the companies in the network."
---
Thank you for taking the time to read this news article "Malaga Police Foil €1.2 million Fraud". For more UK daily news, Spanish daily news and Global news stories, visit the Euro Weekly News home page.