Tutu Up the Mountain is a charity hike organised by three men who will take on Orihuelas Callosa Segura Mountain in pink tutus to raise funds for three charities.
MEN in pink tutus and pink tops will provide support to three local charities as they take to the mountains in order raise money for good causes.
Mark Daughtry, Phillip Trower and Michael Purdy will each be supporting their own chosen charities as the brave ballerinas tackle the tough hike on November 9.
If weather is not good, and the guys in their pink tutus will hope it will be, then Tutu Up the Mountain will take place on November 16.
Mark will be raising money for the Combat Stress charity.
Phillip Trower will be supporting the Jose San Obrero Orphanage.
Michael Purdy will be supporting the Little Pod Association.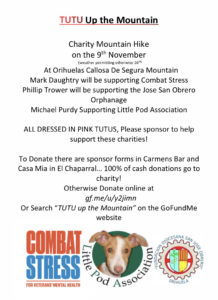 To support the men on their charity hike, please visit their donation website.
Thank you for reading this article "Tutu Up the Mountain: Three men in pink tutus take on charity hike".
Euro Weekly News is delighted to continue be able to bring you a range of News that doesn't cost you anything but your internet connection. Whether it's Local Spanish News or International Entertainment News, we've got you covered!