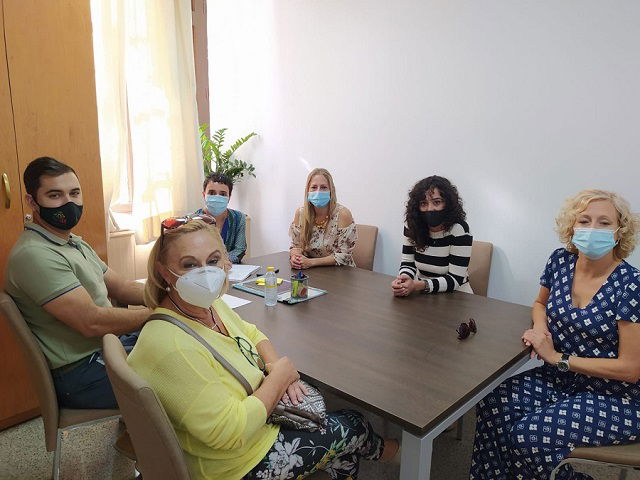 A STUDY of municipal buildings will be the first step towards making Huercal-Overa universally accessible, in what the council says is an ambitious project.
The local authority is carrying out the study in conjunction with the ONCE National Organisation for the Spanish Blind, a foundation which raises funds to provide services with a sight disability or impairment.
Urban Planning councillor Jose Lopez, Social Well-being department technicians, the municipal ONCE director Maria Jose Gomez, and one of the organisation's rehabilitation experts met this week to discuss the coordination of the study on building accessibility for the visually disabled and the timetable for actions in the coming weeks.
Due to get underway shortly, the study will cover the Town Hall, the women's centre, the Monica Sanchez Social Services building, the Gabriel Espinar municipal library, the sports pavillion, the H20 sports centre, Comercial Km 0 and the town theatre.
"The government team is aware that we have to work so that accessibility in our municipality becomes a reality", the Urban Planning councillor commented.
"We are starting with the municipal buildings, in ONCE's hands, to little by little continue on our streets and squares towards the model of universal accessibility, eliminating barriers for everyone", Lopez explained.
"This is work for the short, medium and long-term, for which we have ONCE and other associations in our municipality, us all coming together to eliminate barriers", he added.
We hope you enjoyed this article "Study of municipal buildings first step towards making Huercal-Over universally accessible".
Euro Weekly News is delighted to continue be able to bring you a range of News that doesn't cost you anything but your internet connection. Whether it's Local Spanish News or International Entertainment News, we've got you covered!
For more Local Spanish News from Almeria, head over the page on to the Euro Weekly News website.
Euro Weekly News, the people's paper, we lead others follow!