Last week was a busy one for the HELP charity in Murcia as they continue helping others through large charitable donations.
HELP Office Manager, Joan Mitchell, presented local charity worker Celia Drinkall of ADAPT with a cheque for €3,000 to be used to support the local charity of El Samaritano (San Pedro).
The ADAPT charity looks after families in the area who are in dire need of help, especially during the present pandemic.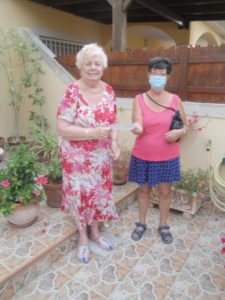 ADAPT supply regular food donations to the food bank of El Samaritano, however, because they have not been able to raise much in donation money since the beginning of the pandemic, they have depleted their funds since they have continued to operate.
With current restrictions and uncertainty, and with little chance of fundraising events currently, the much-needed donation from HELP was viewed as "Heaven Sent".
The generosity of the charity didn't stop there though and it was the turn of HELPs President Christine Baillie to present Donna Walsh, Publicity Officer and fundraiser for the cancer charity MABS, with another cheque for €3,000.
MABS is another wonderful charity operating in the Costa Blanca area that has suffered due to the pandemic, with Covid-19 restrictions meaning they have been unable to carry out fundraising events as they normally would.
The charity had to cancel their annual Party in the Park, which would normally provide a large portion of their fundraising for the year, and after two floods at their shop, it has become increasingly difficult to provide their normal services this year.
HELP Murcia Mar Menor was pleased to be able to support other local charities this year from funds raised by its volunteers during the year 2019.
It is the charities policy to help others in the Murcia region in times of need.
If you would like to help HELP to help others, call in at their office in Los Alcazares or at their outlet in the Oasis Bulivar and talk with one of their volunteers.
Even just a couple of hours a week of your time would make a big difference to others.
Thank you for reading this article "Busy week helping others for HELP charity".
Euro Weekly News is delighted to continue be able to bring you a range of News that doesn't cost you anything but your internet connection. Whether it's Local Spanish News or International Entertainment News, we've got you covered!