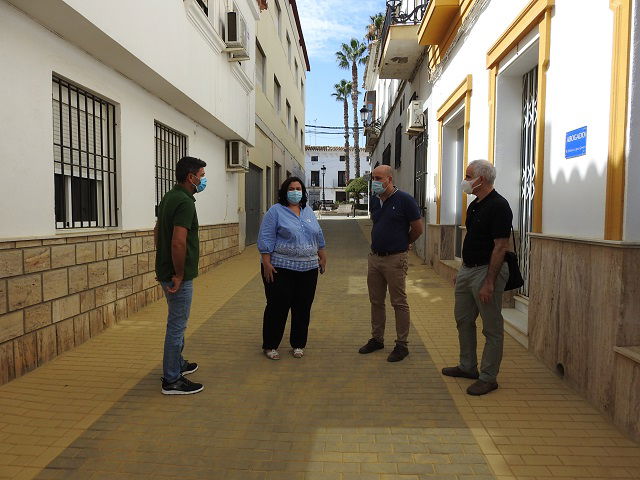 HUERCAL-OVERA is earmarked for a half a million-euro investment in plazas and sports facilities under the provincial council-managed PFEA Rural Development Plan.
The council said it will receive more than €500,000 from the Diputacion de Almeria for a series of projects in different parts of the locality.
Commenting during a visit to PFEA-funded actions in the municipality in 2019 with provincial PFEA deputy Matilde Diaz, Huercal-Overa Mayor Domingo Fernandez, highlighted the importance of the programme.
"We will improve services indifferent zones, making our municipality more attractive at the same times as offering job opportunities to people who form part of the project, workers who if it weren't for this programme would have difficulties in entering the labour market", he commented.
The PFEA deputy described the rural employment plan as "a lifeline for employment, creating working days throughout the year at the same time as improving infrastructure, and therefore services for residents."
Diaz also highlighted the fact that Huercal-Overa is one of the municipalities to have received the greatest PFEA investment this year, creating 4,000 working days."
Specifically the latest investment will include kitting out the Los Ruedos sports ground with basketball hoops, goal posts, protective nets, fencing and new lighting. There will be similar w works at the Atalaya area ground, along with smartened up garden areas and picnic tables.
The Plaza del Edificio Andalucia in bullring area is going to get children's play apparatus, and upgraded gardens, railings, urban furniture and fencing.
In Los Menas the Era de Los Martinez plaza is going to be rebuilt and in Urcal the plaza will be remodelled with urban furniture, lighting, a children's play area and remodeled fitness zone.
The works featured in PFEA 2020 are expected to get underway this month.
We hope you enjoyed this article "Huercal-Overa earmarked for half million euro investment in plazas and sport facilities".
Euro Weekly News is delighted to continue be able to bring you a range of News that doesn't cost you anything but your internet connection. Whether it's Local Spanish News or International Entertainment News, we've got you covered!
For more Local Spanish News from Almeria, head over the page on to the Euro Weekly News website.
Euro Weekly News, the people's paper, we lead others follow!