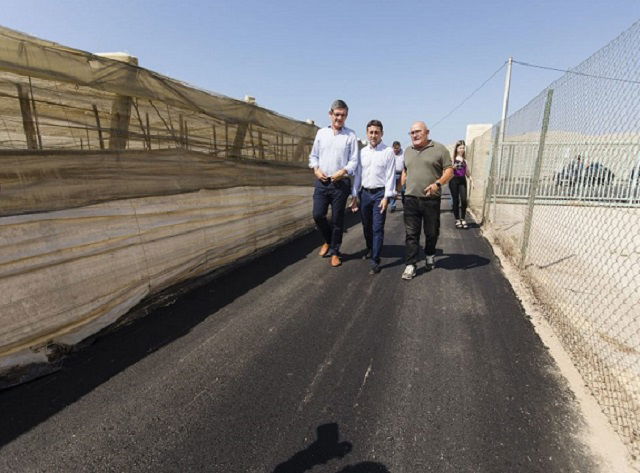 THE Almeria provincial council has given the go-head for Carboneras rural road resurfacing.
THE Diputacion has approved putting out to tender the project for improvements to three country lanes in the municipality at a cost of €66,500.
The works on the Los Alarcones and Los Belmonte lanes, and to a road branching off from the latter, come under the provincial administration's €10.5 million Roads Plan for 2020-21.
The plan is designed to promote investment and works in Almeria's 103 municipalities with a view to revitalising the construction sector, developing job creation and improving public infrastructure.
Commenting on the works in Carboneras and recently approved projects for roads in Bacares, Chirivel, Balanegra, Antas and Laujar, provincial Development deputy Oscar Liria said "although they are not major investments, they are crucial for the correct maintenance of these roads which communicate Almeria's residents, and which in many cases serve for the transport of agricultural production, livestock and for other industries in the province."
Liria maintained the provincial road plan is an "important tool to maintain population and to take on the demographic challenged in the smallest municipalities.
"Thanks to this initiative we are achieving that the province's villages have more and better services, hence we are acting directly in the attainment of one of the Diputacion's main goals for the next four years: to create equal opportunities among Almeria's residents wherever they live."
We hope you enjoyed this article "Almeria provincial council go-ahead for Carboneras rural road resurfacing".
Euro Weekly News is delighted to continue be able to bring you a range of News that doesn't cost you anything but your internet connection. Whether it's Local Spanish News or International Entertainment News, we've got you covered!
For more Local Spanish News from Almeria, head over the page on to the Euro Weekly News website.
For more Political News from Home and Abroad, visit the Euro Weekly News website.
Euro Weekly News, the people's paper, we lead others follow!