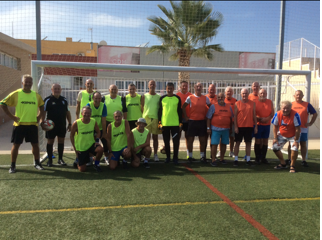 The summer of 2020 is all but over, with all its trials and tribulations, the tourists have gone, the children are back at school.
So, what are you going to do now?
Why not give walking football a go?
The Playa Flamenca Walking Wanderers are still around and playing and are inviting new members.
The award-winning club was given permission to restart play by the Town Hall in July.
The club plays on Monday afternoons with a kick off at 4.30pm for players over 50 at the Playa Flamenca sports centre.
The Club also offers good social activities, "so come along and look at us and join in the fun", said a club spokesperson.
"The only requirement to play walking football with the team is that you are over 50 – no skills are required and football boots are not allowed, only trainers or multi-stud Astro boots."
For further information can be obtained by contacting the club secretary at:-
vickyhillspain@gmail.com
Euro Weekly News is delighted to continue to be able to bring you a range of News that doesn't cost you anything but your internet connection. Whether it's Local Spanish News or International Entertainment News, we've got you covered!