Hot on the heels of Project Costa's first distribution of food for the homeless earlier this week, the team are preparing for a second drive this evening, in Benidorm.
Founder of the non-religious, non-profit organisation, Arne Soeten told Euro Weekly News: "On Wednesday evening, we at Project Costa distributed food in Albir and Calpe.
"We have been driving research into the situation of the rough sleepers.
"In total we were able to make 11 people happy with a healthy meal, dessert and a soft drink. Friday we will hit the streets again in Benidorm."
Project Costa aims to feed and clothe the less fortunate on the Costa Banca, in addition to offering a rehabilitation program for up to three people at a time in a halfway home currently being refurbished in Benitatxell.
This is being equipped with a fully fitted kitchen – thanks to generous donations – and will be run by chef, Steven Barnes.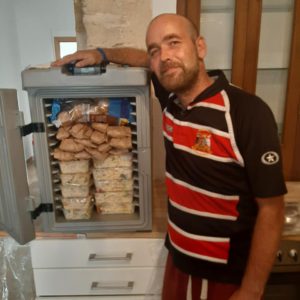 As well as colleting donations, hitting the streets to offer support to the people living on the streets, they are also are doing all of the refurbishment work themselves.
"The progress is going well, day by day, and installations are taking place. But we still need your support to make this happen," said Arne.
Check out Project Costa's website to find out how you can help.
https://project-costa.org/
https://www.facebook.com/projectcosta2020/
Project Costa welcomes clothes (especially men's shoes and jackets and new socks and underwear), food (tinned, pasta, rice etc), sleeping bags, any euros (even €5 makes a difference), along with kitchen tools and equipment.
You can find Project Costa in Calle de la Mar, 31, Benitatxell. Tel: 643 737 584.
For more Local Spanish News from Costa Blanca North, head over the page on the Euro Weekly News website.