A WARM welcome has always been guaranteed at Black Flame Bar and Grill in Pedreguer and the crisis has done nothing to quash the desire to provide the best quality food and service around.
HAVING reopened on May 25 after enforced closure due to the pandemic, Heidi, Sam and the team have adapted the popular bar and restaurant to ensure the safety and comfort of guests.
Most recently, the terrace has been adapted in line with the new smoking restrictions.
"We have stuck to all the rules and have smoking areas with tables two metres apart. There are hand sanitisers everywhere and we are very strict on the wearing of masks.
"A lot of people have said they come here because they feel safe, they know that we stick literally to the rules," said owner Heidi, who runs Black Flame with partner Sam.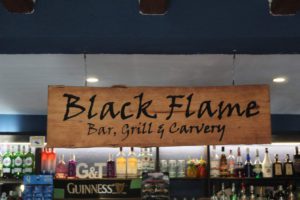 All tables, chairs and menus are cleaned after every use, and the toilets are disinfected every two hours.
Black Flame reopened on May 25, being able to use only the terrace for the first week, and while it was quiet at first, "because people weren't coming out", the team are now welcoming back plenty of familiar faces.
"Bit by bit, people are getting back to some sort of normal. We had one couple who said they only felt safe coming here on their first trip out of the house."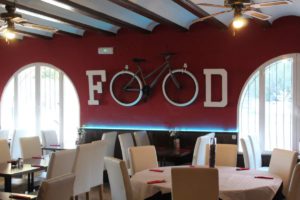 Adapting to situations and market trends is nothing new to Black Flame Bar and Grill.
Known as Monroes Carvery for 15 years, Heidi was keen to distinguish the restaurant from the Moraira-based eatery two years ago, to reflect the management's different approach to dining and its diverse menu.
"To make the distinction between the two restaurants, we changed the name here to Black Flame Bar and Grill over a year ago, and since the name change, we have got busier.
"People realise we are doing so much more now from our flame-burner kitchen, rather than just carvery.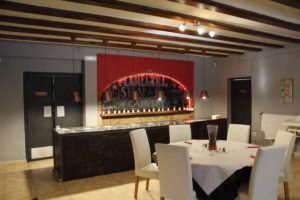 "We've always done steaks, and are now offering ribs, pies, fish and chips, and specials. We are predominantly grill and carvery, as the name suggests, but we do offer vegetarian dishes and as well as vegan options."
Heidi and Sam are constantly changing and adapting the menu to suit trends and ensure they maintain the hundreds of regulars who visit frequently, and the new clients they attract every day.
"We do our market research to stay on top of our game and offer Easter and summer menus, cater for children and do cocktails all year round."
Monday night is pie night, which is €7.95 with a dessert.
Lunch menu is three-course and served with half a bottle of wine, and Fishy Friday is very popular and served all day, €8.95 including a choice of dessert.
Enjoy a full English breakfast for €4.25, and of course 'the best Sunday roast in the area'.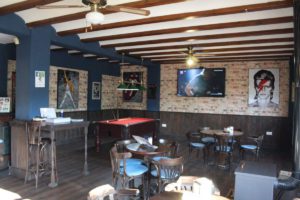 One of Black Flames' novel options is the Greedy Boy Breakfast for €8.95, where diners are challenged to finish off a plate consisting of triple everything!
Live entertainment will resume on Fridays as soon as the law permits.
Black Flame Bar and Grill
Avda Garrofer, 0,
Pedreguer, 03750
965 761 731
https://www.facebook.com/PedreguerCarvery/