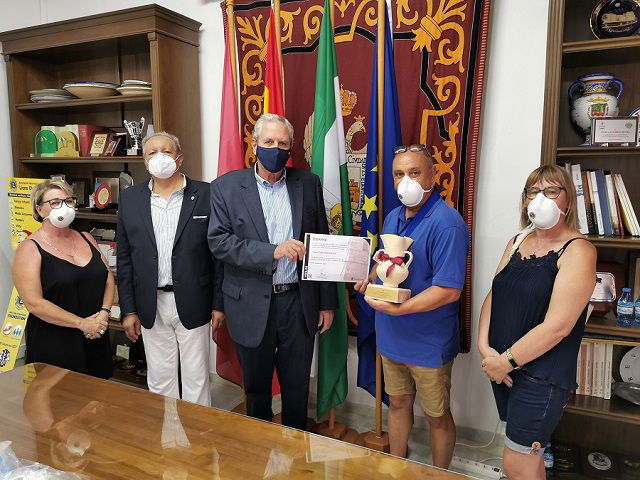 THE Vera and District Lions Club has demonstrated its commitment to helping the local community once again.
The club has donated €3,000 to the local council. Half is for the administration's efforts in dealing with the Covid-19 pandemic and the other half is to go towards the Food Bank to help the municipality's most needy families.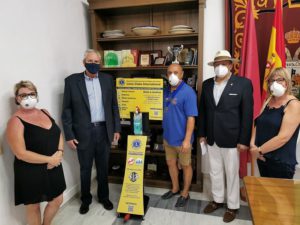 The Lions representatives also presented Vera Mayor Jose Carmelo Jorge Blanco and Intercultural Mediation councillor Jose Maria Fernandez Cortes with three hydro-alcoholic gel dispensers, protective screens and FFP2 face masks.
The council reported that of the dispensers has been installed at Vera's town's Victoria Covent and two at Vera Playa tourist information points.
This is not the first time Vera Lions have made a donation to the local authority. A few years back they gave the administration two semi-automatic defibrillators.
Mayor expressed his enormous gratitude on behalf of the council to the club for this latest donation.
"At these times of a health crisis we see how different collectives, associations and companies demonstrate their solidarity and generosity to control the spread of coronavirus", he commented.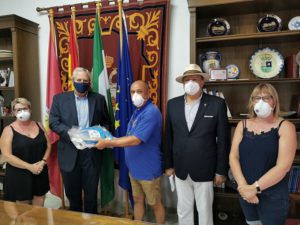 As a show of the administration's appreciation Jorge Blanco presented Vera Lions president Andrew Pearson with a traditional Vera pottery pitcher, which is a symbol of the municipality, and a diploma "in thanks for their active social work and their contribution at these difficult times."
Intercultural Mediation councillor highlighted the efforts of the association members.
"They meet and they get to work to improve the lives of other people, offering their time, their money and their effort to have a better world and society", he remarked.
Also present to make the donation were Lions Secretary Jo Pearson and Vice-President Kay Rowbottom.