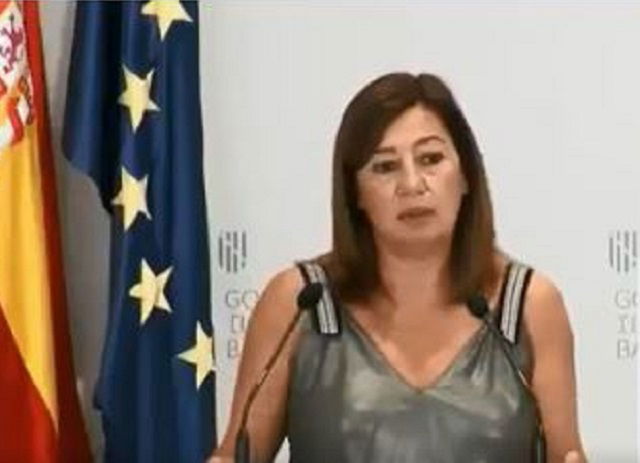 PARTIAL lockdowns look to be on the cards in areas of the Balearic Islands to stem a recent surge in new Covid-19 cases.
Balearic president Francina Armegol announced on Thursday that the regional administration will next Monday approve a resolution which will authorise the archipelago's Health ministry to impose limited lockdowns in Palma neighbourhoods and in 15 municipalities currently worst affected by the pandemic.
In Mallorca they would be Santa Maria, Inca, Deia, Esporles, Valldemossa, Marratxi, Alaro, Binissalem, Banyalbufar and Llucmajor
The specific content of the resolution is not yet finalised, but according to Armengol it could mean measures like only allowing residents out to go to work or for essential matters, not permitting people to leave their homes at night and limiting the number at family or social get-togethers to no more than five.
The regional president made it clear that the level of restrictions implemented would be specific to each zone according to the infection rates in each case.
The measures would be in place for a maximum of 15 days.
The regional government is also planning to approve a resolution to remind anyone who has tested positive for Covid-19 on the islands that they must self-isolate for 14 days.
Public Health will send them a letter informing them of their obligation. Anyone found to have broken their quarantine will face a fine of between €100 and €3,000.
Armengol commented on a community action protocol in place in the Son Gotleu district of the Mallorca capital aimed at raising awareness about the need for measures and increased protection, and with greater controls on compliance and more PCR testing.
GLOBAL CONSULTING MALLORCA
We are a consultancy firm that provides professional services in resident/non-resident taxes,
accountancy,  staff requirements and legal assistance for businesses and private persons.
Our team of multi-lingual professionals provides comprehensive consulting services in the language of your choice;  English,  Spanish,  German,  Dutch or  Russian.
For more information about Global Consulting Mallorca, please visit www.gcmca.es or contact Email:[email protected] or Telephone: 971694044