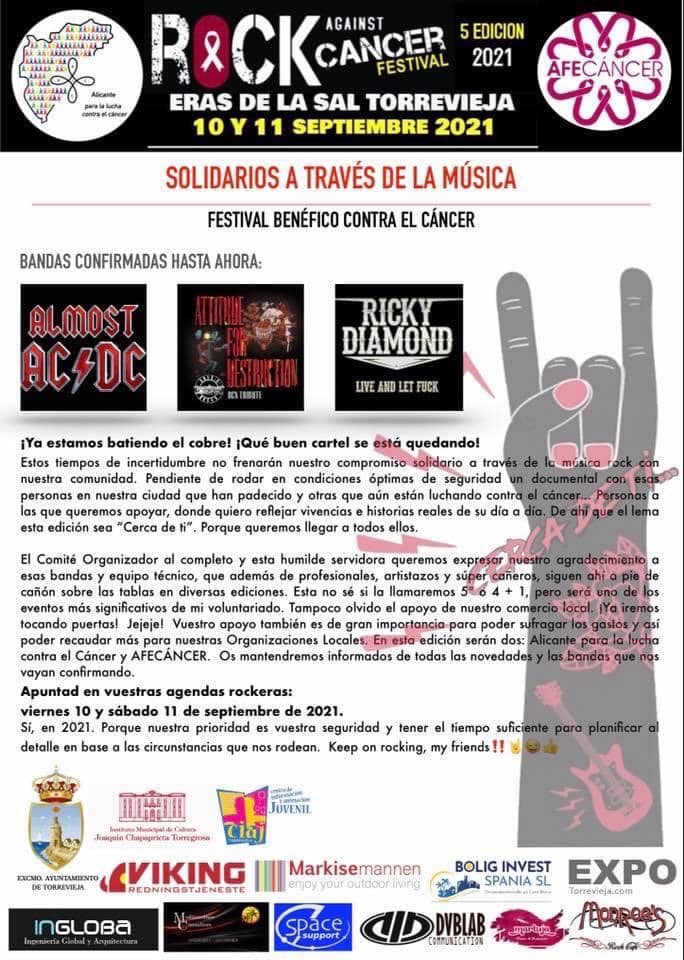 In a rocking way to raise money and awareness for local cancer charities, a music festival is already being planned for 2021 in Eras De La Sal Torrevieja.
HEAD-BANGING, moshing and air guitar will be the order of the weekend next September, as Torrevieja will host another amazing festival for a wonderful cause.
The stage is being filled and the line-up keeps growing as bands continue to be announced for the charity event.
The Rock Against Cancer event, which is scheduled for Friday 10 and Saturday 11, September 2021, will be dedicated to covering costs and raising funds for two local cancer charities; Alicante Fighting Against Cancer and AFECANCER (an association dedicated to patients suffering from cancer and their families).
Acts already confirmed for the rocking weekend include; Almost AC/DC, Attitude For Destruction and Ricky Diamond.
Local business have also shown their support for the event.
The event was cancelled this year due to the Covid-19 pandemic but that has not stopped organisers from planning for next year in what will no doubt be a wonderful weekend of rock and all for an awesome cause.
You can book your tickets for next year's event here.
For more news from Southern Costa Blanca, please follow this link.