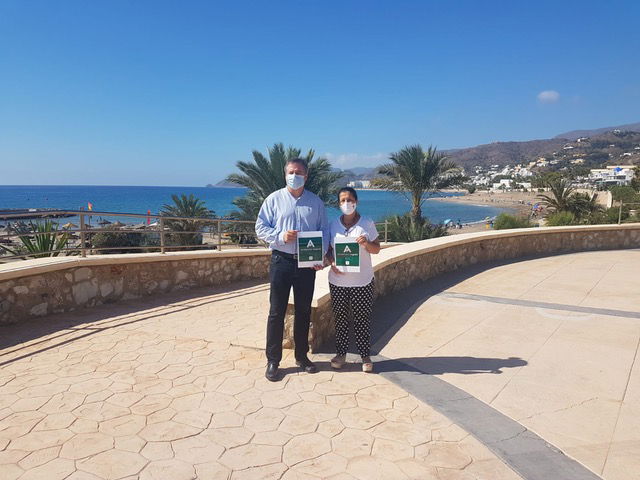 SEVEN Mojacar beaches and the municipal tourist office have gained the regional government stamp for safety.
Junta de Andalucia delegate for Tourism in Almeria Jose Luis Delgado Valdivia made it official on Saturday when he presented Mojacar Mayor Rosa Maria Cano with the certification at the Lance Nuevo beach.
The stamp signifies that Mojacar is complying with the health safety and protection measures contained in the Practical Recommendations Guide aimed at the tourism sector and published on the Junta's Tourism, Regeneration, Justice and Local Administration web page.
Also that the locality is committed to maintaining the measures for the duration of the distinction, until June 9 2021.
Where Mojacar's Marina de la Torre, Descargador, Piedra Villazar, Cantal, Lance Nuevo, Ventanicas and Venta del Bancal beaches are concerned this means the Contingency Plan for dealing with Covid-19.
The recognition comes on top of the SICTID quality distinctions awarded by the Secretary General for Tourism and the CEE blue flags Mojacar's beaches have already earned this year.
The Andalucia distinction, which is given to businesses and services, as well as beaches, in different tourism categories, denotes compliance with Covid-19 safety distinctions with the aim of providing the public with the guarantee and peace of mind of knowing that World Health Organisation rules are being followed.
Once the certification has been awarded, there is a system for checking compliance via a verification process.
The Mojacar tourism office has since it reopened its doors on June 15 been applying Covid-19 controls with comply with guidelines, recommendations and measures to reduce infection coordinated by the Secretary of State for Tourism, the regional governments and the FEMP Spanish Federation of Municipalities and Provinces.